MrBeast Calls for a Sub Attack on Ludwig's Twitch Channel
Published 04/03/2021, 2:10 PM EDT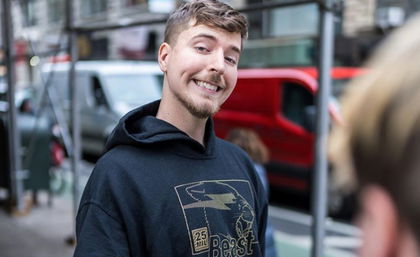 ---
---
Over the years, streaming has come to be more than just playing video games in front of an online audience. Streaming has come to be an online platform for any innovative content that streamers might come up with. Streamers can now be likened to influencers. One of the craziest aspects of streaming is perhaps the bizarre community challenges that streamers take up. A good example would be the popular Twitch streamer Ludwig's recent "subathon".
ADVERTISEMENT
Article continues below this ad
Now, subathon as a concept is not new. The idea is to gain continuous subscriptions while streaming. But some streamers add their own twist to the basic premise and create something really enjoyable. For example, Ludwig's subathon has been running for over two weeks now.
The rule of his subathon is simple, he streams 20 seconds more for every new subscriber he gets on his channel. Following Ludwig, fellow streamer Mizkif also started a subathon on Twitch. However, his subathon was more of a countdown.
ADVERTISEMENT
Article continues below this ad
Further reading: Fortnite Chapter 2 Season 6: Bruno Mars Joins Travis Scott and Marshmello With His Own Emote
Something that involves getting a large number of subscriptions over a period of time is surely well-known in the circuit of online influencers as well. Recently, the philanthropist and internet icon, MrBeast, tweeted about Ludwig's subathon. Looks like the influencer who is known for pulling off crazy internet antics, is interested in lingering on the latter's subathon.
@LudwigAhgren let me know if ur stream is about to end so I can come in and drop some subs to screw u

— MrBeast (@MrBeast) April 3, 2021
Further reading: Valorant: Sentinels' Shazham Offers Clarification for the Team's Behavior in Open Qualification
MrBeast plans on launching a "sub attack" on Ludwig's Twitch subathon
MrBeast is one of the most popular YouTubers and influencers in the world right now. If he calls for an attack of subscribers just to keep Ludwig's subathon from ending, he might just be successful. However, maintaining a subathon for this long is no doubt a difficult task.
Ludwig replied to MrBeast's tweet with a GIF of a tensed Pepe the Frog, saying, "M-maybe try getting buried underground for 100 hours or until it's over."
ADVERTISEMENT
Article continues below this ad
In reply, MrBeast just let out another call of sub attacks on Ludwig's channel.
Calling all influencers, I'm mobilizing a sub attack on Ludwig. Dm for time

— MrBeast (@MrBeast) April 3, 2021
ADVERTISEMENT
Article continues below this ad
As of now, we do not know when his subathon will end. But it surely has been good fun as of now. Looks like seeing a bizarre idea take off successfully does feel good.