MrBeast Has Another Insane Idea to Help Creators Grow Their Channels
Published 03/25/2021, 7:34 AM EDT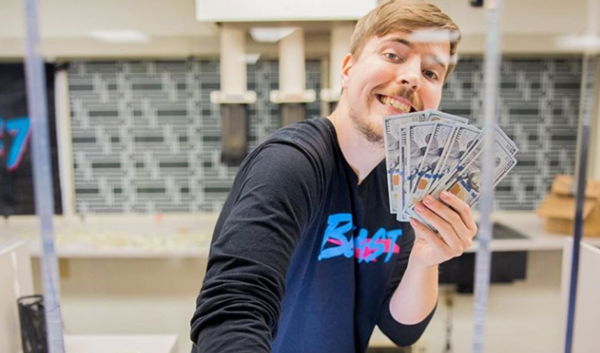 ---
---
Popular YouTuber MrBeast has pulled off another big surprise. This time around, he has invested $2 million of his own money to start a new company he named, "Creative Juice".
ADVERTISEMENT
Article continues below this ad
Creative Juice will be an equity-based financing firm that will help beginner and struggling YouTube content creators. MrBeast will offer finance for a certain percent of the stake in the channel.
The new firm will focus on up-and-coming content creators and their channels by offering financial backup and mentorship.
ADVERTISEMENT
Article continues below this ad
MrBeast to invest in YouTube channels
Jimmy Donaldson, better known as MrBeast to the world, has founded the company alongside Ezra Cooperstein and Sima Gandhi. The eccentric YouTuber is famous for his extravagant stunts and huge giveaways. And yet, this is one of the biggest announcements he has made so far in his career.
"We're gonna make sure we find [creators] that actually need a giant cash inflow and aren't just trying to go buy a Lamborghini," MrBeast told The Information.
Creative Juice will not be all about investments but will also develop certain tools that'd help creators track their performance and help them function better.
Juice is going to change so much you guys don't even understand. Genuinely excited 🙂

— MrBeast (@MrBeast) March 24, 2021
Neither MrBeast nor his co-founders have revealed any details on what type of creators they are looking at. Given MrBeast's avid interest in gaming, the community can hope that he'll invest in some budding gamers and eSports personalities.
MrBeast had previously tweeted how he'd like to invest in content creators to help them "blow up". Just a few months later, he has achieved what he set out to.
Like when I see a channel that I think will blow up, I wish I could just like buy shares in it or something lol

— MrBeast (@MrBeast) December 1, 2020
MrBeast is one of the most popular figures racking up millions of views for each of his videos. Any support from his team would instantly create a big impact on any creator.
Read – "He Sees Holes In YouTube And Fills Them"- Karl Jacobs Talks of MrBeast, DreamSMP And More
There is still no word on when the company will begin functioning. We can expect more updates on the matter from the man himself.
Finger on the app winner revealed
MrBeast's name is synonymous with quirky and ridiculous challlenges. One of them was the 'finger on the app' challenge he had started last year. The second edition of the same concluded not too long ago after a long 51 hours!
ADVERTISEMENT
Article continues below this ad
The contest requires players to simply keep their fingers on the mobile screen for as long as possible.
ADVERTISEMENT
Article continues below this ad
Encountering many hurdles and cheaters, the contest finally ended with Twitter user Swagbacon123 winning. A $100,000 prize will be awarded to the winner while second placed person will receive $20,000 in cash prize.