Muller: Bayern Munich must retain home grown players
Published 07/23/2015, 4:38 PM EDT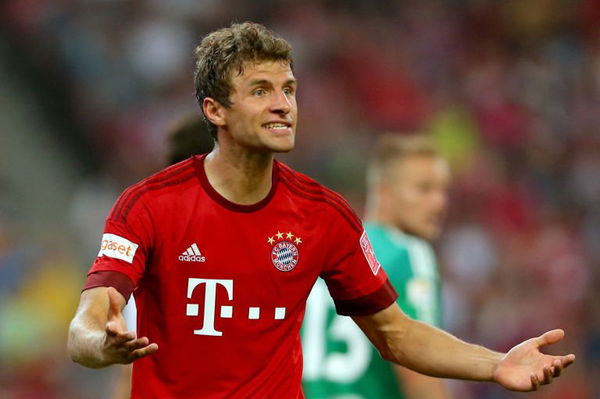 ---
---
Bayern Munich midfielder Thomas Muller stated the importance of keeping German players in the team, after one of his long-serving teammates Bastian Schweinsteiger was sold to Manchester United. Muller wants the Bundesliga champions to retain their true identity by holding onto their home-grown talent.
ADVERTISEMENT
Article continues below this ad
Though Bayern have sold Schweinsteiger this summer, the Bavarian side still has a good bunch of native talent including the likes of Muller, Philipp Lahm, Manuel Neuer and Mario Gotze. And Muller wants this to continue, though he also believes that every player in the squad must prove his worth to the team.
"Ultimately it's the quality of the player that's decisive. Nevertheless, I think it's important for the club, for its identity and the fans that a hard core of German and domestic players is there, so the identity of the club doesn't get lost. We have to keep an eye on it," Muller told in an interview to Goal.
ADVERTISEMENT
Article continues below this ad
Bayern won their third consecutive league title last season, but failed to replicate that success in the Champions League. Injuries to important players like Arjen Robben, Franck Ribery, David Alaba and Javi Martinez played an important part in their defeat at the hands of Barcelona in the semi-finals. And when asked about the part injuries can play in the team's success, Muller said that Bayern will have to overcome all the unpredictable problems they face throughout next season.
ADVERTISEMENT
Article continues below this ad
"Football is simple but very complicated," Muller stated. "You can't explain everything and success, especially, can't be planned. If everyone is fit, you're still far away from winning all the games. Of course, it would have specifically helped us in the Champions League (last season), where in the semi-finals and the final all teams are on a top level and everything is very close.
"You always need a bit of luck and a bit of skills. Take the final in 2012 against Chelsea. We played very well but didn't win. In football a team can be not as good over 90 minutes but win in the end. This is football, this makes it interesting. We have the squad to play at the top. To really win titles, it just has to happen. Firstly you have to bring the performance on the pitch, then luck has to come along."
Muller also said that every player has a different style of play, with different strengths and weaknesses. The 25-year-old German international was quick to say that he is not a great dribbler like Lionel Messi or Neymar, but knows how to use his qualities to help his team.
ADVERTISEMENT
Article continues below this ad
"I have different qualities and no problem with that," Muller continued. "Of course my style of football is not like Messi's or Neymar's. I try to help the team and I know what my qualities are, how I can use it to be successful at the highest level. That does not always look so elegant. I'm not a super dribbler. That's why football is a team sport. In certain areas I definitely have excellent qualities and I have to be there."