Multiple Car Crash During IndyCar Race at Pocono Angers Fans and Drivers
Published 08/19/2019, 8:18 AM EDT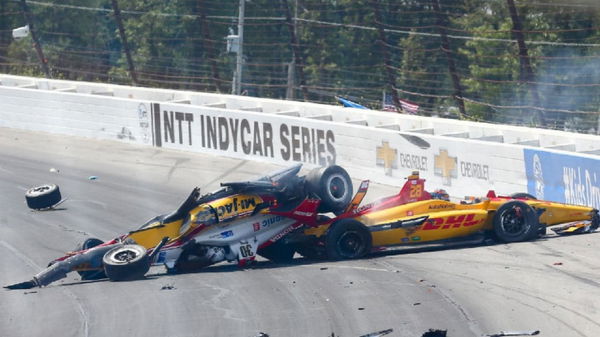 ---
---
The Pocono Raceway in Pennsylvania has a dangerous streak in IndyCar racing. In last night's recently concluded race, a serious crash halted the proceedings on lap one. This was the same circuit that paralyzed driver Robert Wickens from waist down, and claimed the life of former F1 driver Justin Wilson. The good news was that everyone escaped any serious injury, however, the drivers then decided to draw a line.
ADVERTISEMENT
Article continues below this ad
Wickens and many onlookers called for IndyCar to drop the infamous racetrack from the schedule. The Pocono Raceway is notoriously called the "Tricky Triangle" and has long been criticised from IndyCar fans. Wilson was the latest fatality in the sport after perishing at Pocono Raceway in 2015.
Normally, high-speed ovals like Pocono Raceway and the Indianapolis Motor Speedway witness more serious crashes. As a result, a number of fans are not too keen on seeing oval tracks.
ADVERTISEMENT
Article continues below this ad
Former F1 driver and current Carlin driver, Max Chilton raised his concerns on the issue back in June. Chilton opted to pull out of the last four races of 2019 owing to concerns about oval racing. With this 5-car incident, the critics are now building a very strong case against IndyCar to withdraw from Pocono.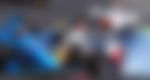 Wickens dubbed the relationship between Pocono Raceway and IndyCar as "toxic". While it's long been clear that it becomes increasingly difficult to protect drivers as the tracks permit higher speeds, the tradition of oval racing still has a lot of support from fans and IndyCar officials.
Pocono Raceway wants the series to return next season, but NBC Sports reported that IndyCar had not made that decision as of Saturday. Today's events may affect the decision.
Critics argued that even if fans like oval racing, Pocono needs to go. This is because, it is a difficult track for drivers and prone to collisions. Some are also pointing out patchy fencing as a sign that the track is not taking safety seriously enough.
During the incident, Chip Ganassi Racing's Felix Rosenqvist was hospitalised following a five-car collision on Sunday.
In 2015, British driver Justin Wilson died at Pocono from a head injury after being struck by debris.
Sunday's crash took place on the first lap of the 500-mile race, which was shortened, courtesy lightning and poor weather conditions.
"How many times do we have to go through the same situation before we can all accept that an IndyCar should not race at Pocono," Wickens said.
"I'm very relieved (to my knowledge) that everyone is okay from that scary crash."
IndyCar driver Sage Karam declared, "Answer is clear that we should not be here".
ADVERTISEMENT
Article continues below this ad
"I don't want people to think I dislike Pocono," he said on Twitter. "I think it's a great track – it's just not meant for IndyCars.
"We need to be smart and move on and go to tracks that fit these cars. I love oval racing and want it in IndyCar. I just simply don't love IndyCar at Pocono."
Meanwhile, Australian driver Will Power won the race, racking up his 36th career victory. Aside from Rosenqvist, other drivers involved were, Takuma Sato, James Hinchcliffe, Ryan Hunter-Reay, and Alexander Rossi.
ADVERTISEMENT
Article continues below this ad