Murray levels Davis Cup final as Goffin survives scare
Published 11/28/2015, 6:50 AM EST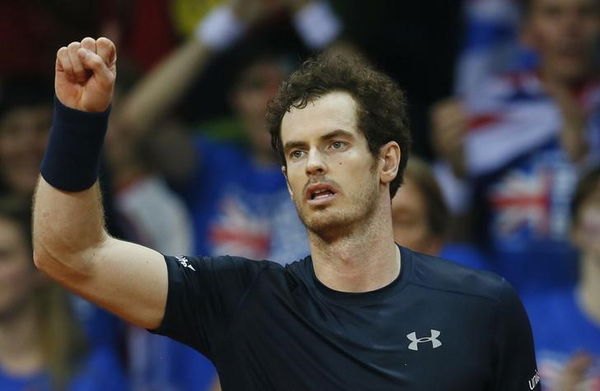 ---
---
By Martyn Herman
ADVERTISEMENT
Article continues below this ad
GHENT, Belgium (Reuters) – A fired-up Andy Murray showed his class to draw Britain level with Belgium on day one of the Davis Cup final after David Goffin's escape act from a two-set deficit had given the hosts the lead in Ghent on Friday.
The 28-year-old world number two Murray, who has almost single-handedly put Britain on the brink of their first title since 1936, duly delivered another point, beating 108th-ranked Ruben Bemelmans 6-3 6-2 7-5 on the indoor claycourt.
ADVERTISEMENT
Article continues below this ad
Murray's hunger to capture the team trophy has been evident all year with inspirational displays against the U.S., France and Australia and he wore his heart on his sleeve again as he withstood a Bemelmans fightback to clinch victory.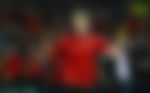 At 2-2 in the third set and the noise levels deafening inside the 13,000-seat arena built within a charmless warehouse on the edge of medieval Ghent, Murray was even docked a point for an audible obscenity.
He then slipped 4-2 behind and fought off a Bemelmans set point at 4-5 before clinching a straight-sets victory that enabled him a little more recovery time for Saturday's doubles rubber with older brother Jamie, most likely against Steve Darcis and Kimmer Coppejans.
"I had no idea about either of the warnings because you can't hear anything on the court," Murray said of the raucous atmosphere produced by a sell-out crowd. "So I'm surprised (the umpire) could hear what I was saying."
Murray's seventh singles win in Davis Cup this year left the final evenly-poised, although Britain would already be virtually home and dry had debutant 20-year-old Kyle Edmund finished off world number 16 Goffin.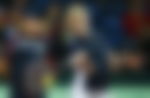 The opening singles of the tie, which was regarded as a "must-win" rubber for Belgium as they try to land their first title, was turning into a humiliation for Goffin when he trailed the world number 100 by two sets.
However, lifted by the chants of the home fans, the 24-year-old recovered from two sets down for the first time in his career to win 3-6 1-6 6-2 6-1 6-0.
The match began with a 12-minute game in which Goffin wasted two break points, shanking one forehand into the roof girders, then saw him completely overwhelmed for more than an hour by a free-swinging Edmund with a thunderbolt forehand.
When the Briton won the opening game of the third set he looked poised to become the first debutant to win a live rubber in the Davis Cup final, but Goffin recovered his senses in the nick of time to put a tiring Edmund in his place.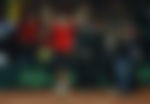 "The pressure was more on my shoulders because we needed this point against Kyle," Goffin told reporters. "I was a little bit worried because Kyle was playing unbelievable. He just had nothing to lose."
Belgium captain Johan Van Herck said he had feared the worst as Edmund blazed away on the clay.
"I was very worried," he told reporters. "Didn't expect to be there. But we knew if David could find his game, he could win three sets in a row.
"But he had to get the tension off and he had to get his feet moving. Luckily for us he did."
Defeat for Goffin would have left Belgium's dreams in tatters and the pressure seemed to freeze the 24-year-old as his game disintegrated in the face of Edmund's withering power. Edmund was in complete control for more than an hour and took the second set in 25 minutes on a Goffin double fault.
ADVERTISEMENT
Article continues below this ad
A stunned Goffin finally got a foothold when he broke the Edmund serve to open a 3-1 lead in the third set and the momentum quickly swung his way.
With the spring back in his legs, that had seemed set in concrete earlier, and his shoulders released, Goffin began to feed off the energy of the crowd as Edmund wilted.
"The experience of David and also the environment at some point did take a toll," British captain Leon Smith said.
ADVERTISEMENT
Article continues below this ad
"He probably had to win it in straight sets or even in four."
(Reporting by Martyn Herman; Editing by Toby Davis)