Myles Garret Fails in his Appeal Alleging a Racial Slur on Him; NFL Upholds Suspension
Published 11/22/2019, 7:53 AM EST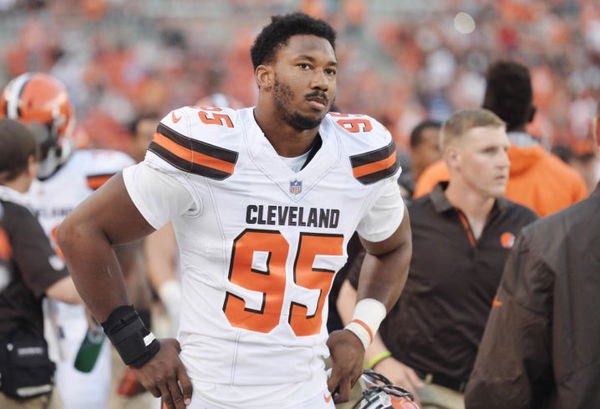 ---
---
Cleveland Browns defensive end Myles Garret failed in his appeal to waive the suspension levied on him by NFL.
ADVERTISEMENT
Article continues below this ad
He was suspended for an indefinite period a few days back for the incident where he hit Mason Rodolph on the head with his helmet during the match against Pittsburgh pirates.
Garret's appeal was claiming that Rudoph had a racial slur against him, which led to him resorting to such a behavior.
ADVERTISEMENT
Article continues below this ad
"I know what I heard," Garrett said in a written statement posted Thursday evening on Twitter. "Whether my opponent's comment was born out of frustration or ignorance, I cannot say. But his actions do not excuse my lack of restraint in the moment, and I truly regret the impact this has had on the league, the Browns and our devoted fans."
Rudolph's agents firmly denied the allegations, which surfaced in a report from ESPN.
ADVERTISEMENT
Article continues below this ad
"According to ESPN, in his appeal, Myles Garrett falsely asserted that Mason Rudolph uttered a racial slur toward him, prior to swinging a helmet at Mason's uncovered head, in a desperate attempt to mitigate his suspension," a statement released on Twitter said.
Appeals officers Derrick Brooks and James Thrash, jointly appointed by the NFL and the NFLPA, have reached their decisions on the discipline appeals for Myles Garrett and Maurkice Pouncey. pic.twitter.com/xfLpiHpVBc

— Michael Signora (@NFLfootballinfo) November 21, 2019
"This is a lie. This false allegation was never asserted by Garrett in the aftermath of the game, never suggested prior to the hearing, and conspicuously absent in the apology published by the Browns and adopted by Garrett. The malicious use of this wild and unfounded allegation is an assault on Mason's integrity which is far worse than the physical assault witnessed on Thursday.
ADVERTISEMENT
Article continues below this ad
"This is reckless and shameful. We will have no further comment."
NFL, on Thursday, declared that the suspension will be upheld with lack of evidence to support Garret's allegations.