Myles Garret Suspended without Pay; No Legal Complaint from Mason Rudolph
Published 11/16/2019, 5:46 AM EST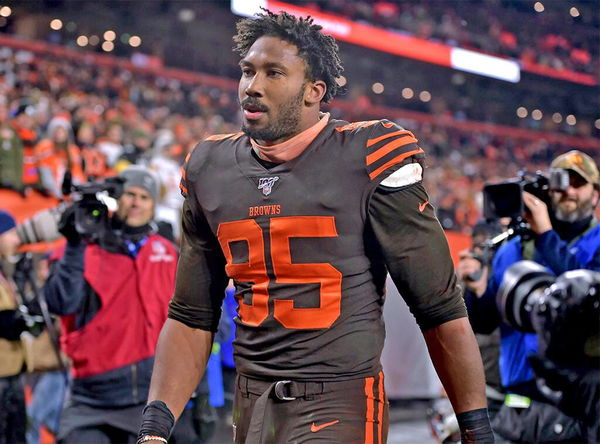 ---
---
Cleveland Browns' Myles Garret has been suspended without pay for an indefinite period for his actions involving in a conflict during Thursday's game against Pittsburgh Steelers.
ADVERTISEMENT
Article continues below this ad
The NFL has confirmed that Garrett will miss at least the regular season and postseason as a result of the altercation, which included violations "of unnecessary roughness and unsportsmanlike conduct rules, as well as fighting, removing the helmet of an opponent and using the helmet as a weapon," according to a statement from NFL's senior VP of communications Michael Signora. Garrett also was fined an additional amount for his actions.
Apart from the player's fine, each organization will also face a financial penalty, as the league has fined both the Browns and Steelers franchises $250,000 each.
ADVERTISEMENT
Article continues below this ad
"We are extremely disappointed in what transpired last evening at the end of our game," Browns owners Dee and Jimmy Haslam said in a statement on Friday. "There is no place for that in football and that is not reflective of the core values we strive for as an organization. We sincerely apologize to Mason Rudolph and the Pittsburgh Steelers. Myles Garrett has been a good teammate and member of our organization and community for the last three years but his actions last night were completely unacceptable. We understand the consequences from the league for his actions."
ADVERTISEMENT
Article continues below this ad
ADVERTISEMENT
Article continues below this ad
Steelers president Art Rooney II released the following statement: "As an organization, we are disappointed with what occurred last night near the end of our game against the Cleveland Browns. The actions of the players involved were not something that should be part of any football game. Our players, coaches and everyone in the Steelers organization understand that we must always maintain composure, no matter what happens. After a hard-fought game between two rivals, it is a shame that the game ended that way."
The kind of incident it was, a possibility of legal action against Garret was also speculated. However, the Associated Press (AP) report that Police haven't started investigating anything on Garret. The reports suggest that the police hadn't received a complaint from Mason Rudolph, who got hit by the helmet in that incident.