Nadal's Injury Woes
Published 06/15/2016, 8:32 AM EDT
By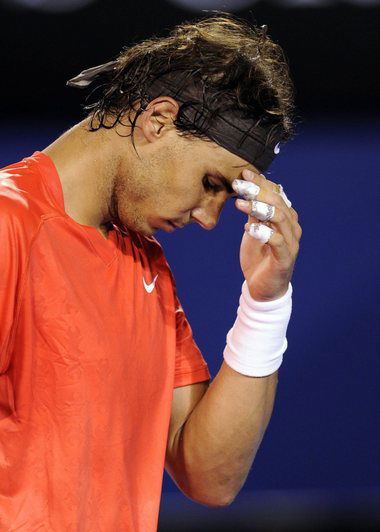 News of Nadal's pull out from this year's Wimbledon Championships due to wrist injury has left fans disappointed and dejected. While some say that this is in fact a welcome and strategic move by Nadal who wants to be completely fit for the Rio Olympics, others are of the opinion that this latest withdrawal is a strong testament to the fact that the Spaniard's injury prone career has certainly slumped to an all- time low. There is no better way to explain this downfall other than the fact that his body and fitness is what has prevented the former World Number One from becoming arguably the greatest player ever. At one point of time, there was hardly any doubt regarding whether the fourteen-time grand slam winner would be able to surpass Roger Federer's tally of seventeen slams, but such has been the unfortunate turn of events that Nadal, who is currently ranked number 6 in the world, has not won a grand slam in the last 2 years.
ADVERTISEMENT
Article continues below this ad
The left hander from Mallorca, affectionately known as the 'King of Clay' has been a shadow of his imperious self over these past 24 months. The concerns regarding his fitness and injury related problems are certainly justified, considering Nadal is only 30 right now, while his on-court arch nemesis Roger Federer is still performing decently at the age of 34. Also he is just one year older to the current world number 1 Novak Djokovic, who is sweeping slam after slam.
Rafa has been no stranger to injuries, so much so that as a child, he was in fact advised against taking up any sport at all, fearing that his body might not be able to take the grunt of a physically demanding sport like tennis. On numerous occasions, Nadal has had to pull out of important tournaments and even grand slams due to shoulder, back or knee injuries. Nadal's knees have specifically given him a lot of trouble throughout his career. And this is not altogether surprising, considering that the Spaniard's game is heavily dependent on top-spin and running and also because of his attitude of giving everything on each and every point. It is in fact this attitude that has made him one of the most successful players ever, but sadly his body has had to pay for his style of tennis. This is the reason Nadal has not had the same longevity as Federer, who relies more on his extra-ordinary on court movement and God gifted skills due to which he is able to cut down a lot on running.
ADVERTISEMENT
Article continues below this ad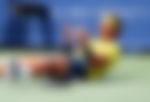 However, it would not just be silly, rather hilarious to count out a great champion like Rafael and question his ability of winning more slams in the future. The Spaniard has in fact developed a knack of making extra-ordinary comebacks. Just when everyone is thinking that Nadal's career is more or less over, he pounces back like a lion, overwhelming his opponents to win major tournaments. But as he keeps getting older, making such comebacks again and again won't be easy and you never know when retirement might just be staring the champion's face.
Let us now look at some critical junctures in Nadal's career when he was let down due to injuries-
I. 2012 London Olympics
Nadal had to pull out of the 2012 Olympics- where he was due to be the flag bearer for Spain- because of a persistent knee injury that had been troubling him since the French open. This happened just weeks after his shocking second round exit in Wimbledon where he lost to Lukas Rasol and which is still considered as one of the greatest shocks in grand slam tennis. After his withdrawal from the London Olympics due to knee tendinitis, Nadal missed the rest of the hard court season leading up to the US Open, stating that he will not return to court before the recovery. And later he also pulled out of the 2012 US Open as he was unable to recover by that time.
II. 2009 Wimbledon Championships
After his surprise defeat at Roland Garros to Robin Soderling in the 4 round, Nadal withdrew from the AEGON Championships due to tendinitis in both of his knees. On 19 June, Nadal withdrew from the 2009 Wimbledon Championship, citing his recurring knee injury. He was the first champion not to defend the title since Goran Ivanišević in 2001. Nadal also announced his withdrawal from the Davis Cup.
III. 2010 Australian Open
It was once again his knees which forced Nadal to pull out midway in his quarter final match against Andy Murray due to an injury in the right knee. The Spaniard suffered a recurrence of the problem that had plagued him throughout 2009 and forced him out of Wimbledon at the end of the second set against Murray.
ADVERTISEMENT
Article continues below this ad
After the match, Nadal was quoted as saying "(It happened) at the end of the second set. I felt a similar thing to what I had last year so it was impossible to win the match. "When I have the chance to play, I never retire. I knew I was going to lose like I did in Rotterdam last year. I say sorry to Andy for that. I felt pain was still there."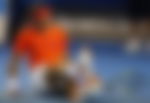 ADVERTISEMENT
Article continues below this ad
Injuries have certainly been a major dent in Nadal's otherwise spectacular career, and the fact that the gritty Spaniard has still managed to clinch fourteen slams speaks volumes about the man's talent, brilliance and determination to succeed. Nadal is indeed going through a bleak phase of his career, with many questioning whether he still has it in him to compete at the highest level, let alone win slams. But it is no secret that the Mallorcan thrives under pressure, and now, when he is being made to face pressure and criticism, from all sides, he might just pull out an astonishing victory to again put himself at the helm of the tennis circuit. And with the Olympics just around the corner, who knows, maybe an Olympic gold lies in waiting.