NASCAR: Dale Earnhardt Jr and Jimmie Johnson React to F1 Star Ricciardo's Podium Bet Involving Dale Sr
Published 04/02/2021, 11:30 AM EDT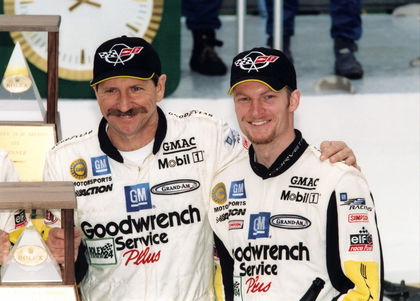 ---
---
Recently, Formula One racing team McLaren's CEO, Zak Brown, made an interesting bet with his star driver Daniel Ricciardo, which involved NASCAR legend, Dale Earnhardt. Brown's varied car collection includes an iconic car driven by Earnhardt, a 1984 Wrangler Chevrolet Monte Carlo.
ADVERTISEMENT
Article continues below this ad
Brown gave Ricciardo a mini die-cast version of the same car recently and Ricciardo was excited. However, Brown raised the stakes and promised the driver a ride in the actual car after he wins his first podium for the team.
Dale Jr, Jimmie Johnson excited to see the tribute for Dale Earnhardt
ADVERTISEMENT
Article continues below this ad
It was a very interesting podium bet and Earnhardt's son and another NASCAR icon, Dale Earnhardt Jr, reacted to the same. Additionally, Jimmie Johnson, one of the only two other drivers to share Earnhardt's feat of 7 Cup titles, also shared his views.
Dale Jr. was touched to see the gesture from Brown. Ricciardo has clearly expressed how much he idolizes Dale Sr.
Johnson, who equaled Dale Sr's record with a title in 2016, agreed with Dale Jr's view on the same.
As soon as Brown promised Ricciardo a drive in the actual car, the star driver was thrilled to bits. This serves as extra motivation for him in his new team.
Ricciardo's level of respect for 'The Intimidator'
Speaking in an interview recently, the F1 driver spoke very highly of Dale Sr, known as 'The Intimidator' in his time. He expressed his emotions when he learned of the NASCAR great's tragic death in an accident at the 2001 Daytona 500.
I remember the race 20 years ago vividly. My reaction to the news, I was crying. I called my friend at the time, Stephen, we raced go-karts together, and he was also a big Earnhardt fan. I called him as soon as I saw the news, and we just basically cried on the phone together. He was a hero, for sure," Ricciardo said.
ADVERTISEMENT
Article continues below this ad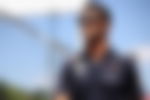 Back in 2014, Ricciardo also began driving the no. 3 car for his former team, Red Bull. In NASCAR circles, the no. 3 resonates with Dale Sr. quite extensively. Ricciardo drove the car as a tribute to Earnhardt.
It must also be quite an emotional moment for Dale Jr to see his father's legacy being honored in the world of motorsports and the respect he has.
ADVERTISEMENT
Article continues below this ad