"Had a Blast" – Jimmie Johnson Keeps the Spirits High Despite Another Tough Day in IndyCar for the NASCAR Legend
Published 04/26/2021, 9:00 AM EDT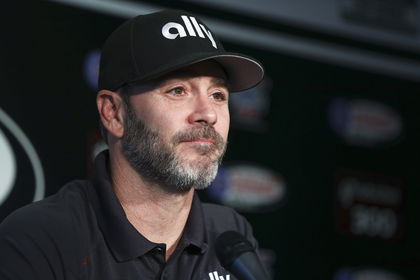 ---
---
At the Firestone Grand Prix on Sunday, Jimmie Johnson had a difficult time behind the wheel in only his second IndyCar race ever. He finished in 22nd place and five laps down on a day when two racing incidents involving him brought out cautions.
ADVERTISEMENT
Article continues below this ad
However, Johnson had a 'blast' in his first-ever street course race and just his 10th day behind the wheel of an Indy car, including his practice and testing sessions.
Race fans are the best fans and I want to give a big shout out to all the @nascar fans I saw today in St. Pete, and the @indycar fans for all the support on my first street circuit race. Today was my 10th day in an Indy Car and I can't wait to do it again in a couple weeks. pic.twitter.com/6JhRT2PUS7

— Jimmie Johnson (@JimmieJohnson) April 25, 2021
ADVERTISEMENT
Article continues below this ad
"I had a blast here in my first street race. It is more physical and more difficult than these drivers ever make it look, so a huge credit to all of them and how easy they make this look," Johnson expressed after the race.
How did Jimmie Johnson perform in the St. Petersburg IndyCar race?
It is all about the experience for Johnson, who had even expressed earlier that his 'fun meter is at 11' despite a tough time in practice and qualifying at St. Petersburg.
The Chip Ganassi Racing No. 48 spoke about his day and admitted that he made two mistakes that cost him on Sunday.
"Exciting day for me here in St. Pete. Unfortunately, I made two mistakes on older tires," Johnson said in a short video after the race. On lap 15, Johnson went off the course after losing control on turn 13.
"I could feel the car losing some grip and being a little more difficult to drive, but I thought I could stay on top of it, and just got behind into 13 and locked up the fronts," the 45-year-old explained.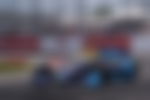 Later, on lap 73, he spun and had some contact with the wall. Luckily, he was able to keep going. Johnson recognizes the positives from the race and also the aspects of his racing that he needs to work upon.
Johnson is focused on the road ahead
ADVERTISEMENT
Article continues below this ad
"I had a really loose car through the high-speed stuff and it got away from me…At different points, there certainly were some bright spots, and the pace was there by really putting together the run from cold tires to old tires, something I need to work on," Johnson explained further.
The NASCAR legend has had two tough races so far on two different tracks at the start of his IndyCar career. However, it is quite clear that he is enjoying the learning curve more than anything as he works on improving every passing day.
He now has a race week off as he has decided not to run the oval races. Johnson's third race behind his No. 48 car will be at the Indianapolis Motor Speedway road course, on May 15.
ADVERTISEMENT
Article continues below this ad