Michael Jordan Feels "Different Type of Nervous" as NASCAR Team Owner Than as a Basketball Player
Published 02/19/2021, 9:10 AM EST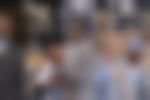 ---
---
Michael Jordan has tried his hand at many different things, and it is safe to say that he has excelled at most things he has done. The NBA legend is now very much in the project of building a successful NASCAR team, which made its debut in the Cup Series a few days ago.
ADVERTISEMENT
Article continues below this ad
In his basketball career, Jordan has played some of the biggest matches in the history of the sport. Now, in NASCAR, he will witness as driver Bubba Wallace tries to come out on the winning side of some of the biggest races in the sport.
The sporting legend recently sat down with Bubba and co-owner Denny Hamlin, to talk about the new association, and his excitement levels going into the debut season with 23XI Racing.
ADVERTISEMENT
Article continues below this ad
Jordan admitted he will be very nervous before every race. "I'm nervous and I know I'm gonna be nervous," Jordan said.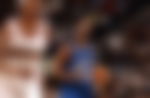 Michael Jordan explains the difference in nerves as a NASCAR team owner
At the same time, he explained the difference between his nerves on a basketball court compared to what he is facing in NASCAR. On the court, things were a lot more in his control.
"No, not that nervous. But it's a different type of nervous," Jordan said when asked to make the comparison. "When I'm nervous on the court, I can go rebound, I could go shoot, I can play defense. Here, all I can do is cheer," he expressed.
Jordan was in the vicinity last Sunday when Wallace ran the iconic Daytona 500 for 23XI Racing. The team's official NASCAR debut did not end the way they would have wanted. Wallace was involved in a last-lap crash that ended his hopes on the night.
Bubba Wallace starts well in a bid to fulfill Jordan's expectations
However, in practice and qualifying sessions leading up to the race, and in the race itself, the 27-year-old was quite impressive. He showed the skills he possesses and what he can do with the equipment he has in the new car.
ADVERTISEMENT
Article continues below this ad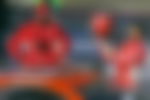 The message from Jordan has been clear since day 1. The 58-year-old superstar is here to win in NASCAR and his belief in Wallace is also quite evident. Both Jordan and Hamlin believe the youngster can bring the team a lot of success.
The start has been promising. Whether Wallace translates it into wins, only time will tell.
ADVERTISEMENT
Article continues below this ad