19-Year-Old Gracie Trotter Creates History With a Win in NASCAR-Acquired ARCA Series
Published 09/27/2020, 2:00 AM EDT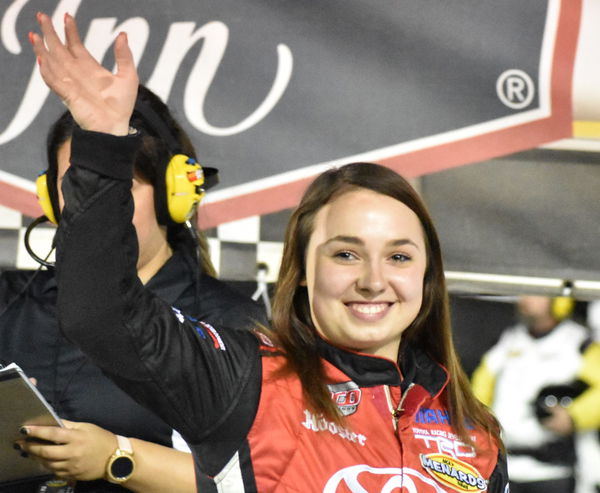 19-year-old Gracie Trotter left the rest of the field behind on Saturday to become the first female driver to win an ARCA-sanctioned race. Trotter reigned supreme in the ARCA Menards West race at the Las Vegas Motor Speedway. ARCA is now under the NASCAR umbrella.
She is also just the second female driver to win in the West Series. ARCA is sanctioning the series for the first time, which was earlier known as the NASCAR K&N Pro Series West. Hailie Deegan is the most recent female winner there, as well as the first.
Deegan won in the West Series race for the first time at the Meridian Speedway in Idaho in 2018. She's won two more races since then, in 2019.
ADVERTISEMENT
Article continues below this ad
Gracie Trotter shows her skills on the track
On Saturday, Gracie Trotter took the lead for the first time on Lap 54. She ended up leading 95 of the 150 laps in the race and dominated the race for the most part of it.
"I'm at a loss for words right now. My first year in ARCA, out West, far from home. It just really means a lot to me," Trotter said after her win.
She even displayed her skills while taking the lead. With the two cars in front of her fighting side-by-side, Trotter seized the opportunity with a three-wide pass.
"I kind of got a little lucky there. The two front cars were battling side by side. I took it three-wide, a little sketchy at first, but I made it stick," Trotter said.
Winning in her first ARCA season on a NASCAR circuit
ADVERTISEMENT
Article continues below this ad
Trotter's debut season in the ARCA Menards West Series saw the teenager notch a win. She competes for Bill McAnally Racing. As a 16-year-old, Trotter etched her name in the history books as the first female victor of the Young Lions Legends Cars division. She won that race at the Charlotte Motor Speedway.
ADVERTISEMENT
Article continues below this ad
Before Trotter's win, the best finish by a female driver in the history of ARCA Series was second place. Shawna Robinson placed second back in 1999, while Erin Crocker earned three second-place finishes in the early 2000s. Deegan was second in an ARCA race earlier this year at the Daytona International Speedway.