"2015 Coming Back" – All is Not Good for NASCAR Star Kyle Busch
Published 05/24/2021, 1:08 PM EDT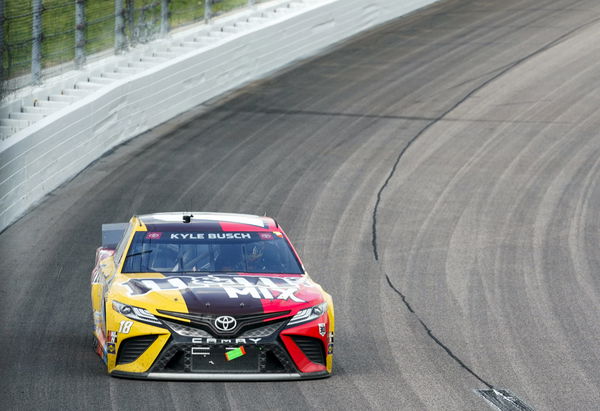 ---
---
During the NASCAR Xfinity race at COTA, Kyle Busch dominated the proceedings. However, his dominance masked what was really going on inside the car. After the race, the 36-year-old confessed that he had to contend with pain in his left foot. Busch alluded to the 2015 season, where he broke his foot during the race at Daytona.
ADVERTISEMENT
Article continues below this ad
He said, "I've got to give a huge shoutout to all the machine guys, all the CNC guys as well as the carbon guys. They helped me be able to get comfortable in the car this weekend for being able to come out here and run on the road course again. Little bit of ol' 2015 started to flare up this past week."
Kyle Busch made a comment about 2015 coming back again in his postrace TV interview. What he meant was his left foot (broken in 2015) has been bothering him a bit this week. They made some sort of carbon piece to take the pressure off his foot when he pushes the brake pedal.

— Jeff Gluck (@jeff_gluck) May 22, 2021
ADVERTISEMENT
Article continues below this ad
When did Kyle Busch sustain the injury?
ADVERTISEMENT
Article continues below this ad
During the Xfinity Series season opener at Daytona, Busch got involved in a head-on crash. In the process, the Joe Gibbs Racing driver suffered a fracture in his left foot as well as a compound fracture of his right leg. Those injuries forced him to miss 11 Cup Series races, and despite that, he still went on to win the 2015 Cup Series championship.
Coming back to this weekend's race, the driver confessed that the left foot began bothering him, all of a sudden. He admitted that he and the team are still mystified about why the pain came back after all these years. On the bright side, Kyle Busch revealed that he and the team built some sort of support from carbon fiber and put it on his foot.
ADVERTISEMENT
Article continues below this ad
To be perfectly honest, this was probably the worst race to pick up a foot injury or experience phantom pain. This was because the Circuit of the Americas is a brake-intensive road course. It didn't help matters that Busch was pulling double duty in the Cup and Xfinity Series. Against all odds, Kyle Busch romped to Victory Lane ahead of AJ Allmendinger, who was nearly 11 seconds behind.