After the Kyle Larson Assault Controversy, Bubba Wallace Claims to Have "Unfinished Business" at Vegas
Published 03/10/2023, 8:22 PM EST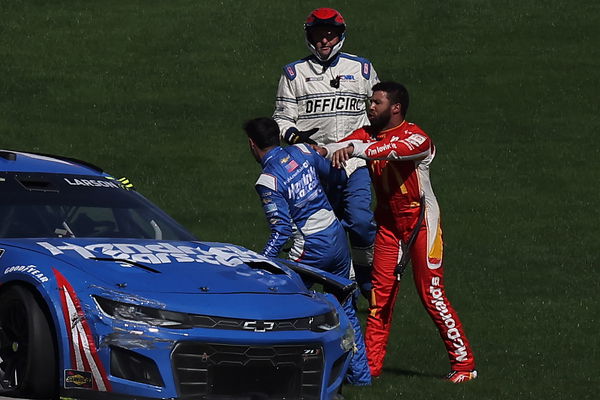 Cup Series races are known for the daring aggression shown by the drivers on the tracks, and often, fans have witnessed post-race altercations turning violent. Some of the incidents are forgotten beyond the race tracks but some are etched in the memory, at least for the people involved. These unforgettable moments can change the whole approach of a driver and even their career trajectory. One such episode was from last year on the Las Vegas track between Bubba Wallace and Kyle Larson. 
The 23XI Racing driver was racing alongside Kevin Harvick in the race at Vegas last year. Kyle Larson charged aggressively past both causing Wallace to scrap at the wall on lap 95. Wallace, known for his tough and unapologetic nature decided to retaliate then and there. He turned left on the front stretch and hooked with the right rear of Larson's car, and he spun directly into the path of Christopher Bell.
Bubba Wallace still seems to hold a grudge for the incident with the Hendrick Motorsports driver. This year, things have been cold between the two and a recent video shared by NASCAR holds the proof. It is a compilation of radio communication between the drivers and their respective teams from this year's Las Vegas race. In the video, Wallace says, "I've got some unfinished business here at this place. Let's go out, get it all." Well, at least for Wallace, what happens in Vegas doesn't stay in Vegas. 
ADVERTISEMENT
Article continues below this ad
When Bubba Wallace lost his cool
Last year, it was like a scene from an action movie when Bubba Wallace got out of his car after the accident. Post the wreck, under caution, Wallace walked to Larson and shoved him a couple of times. Safety workers had to intervene to separate both of them.
ADVERTISEMENT
Article continues below this ad
Wallace said that the result was inevitable given how Larson had raced with him. Larson accepted the blame for the initial contact and said that he understands why Wallace is upset. But he also mentioned that his decision to immediately retaliate was not right given the safety concerns of the still new Next Gen car.
On the other hand, Wallace did not take responsibility for causing the wreck and suggested that the new cars break easily so the contact was not retaliatory. He just lost steering control after hitting the wall.
ADVERTISEMENT
Article continues below this ad
Now it seems that the fire is still not doused. It looks like Bubba Wallace has taken the incident very seriously and does not wish to forgive and forget. But for the sake of everybody's safety, let's hope no intentional wreckage occurs in the upcoming races.
Watch This Story: Christopher Bell Reveals the Reason Behind His Heated Discussion With "Mad" Bubba Wallace in Vegas
Edited By: Nischal Kandpal