"Apparently He is Watching Too Much Hockey!" – Kyle Busch Brutally Shut Down Kevin Harvick at Darlington in 2011
Published 09/06/2022, 1:45 PM EDT

Follow Us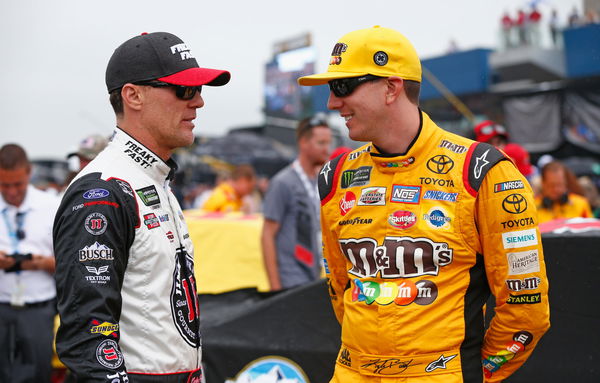 Though Chase Elliott and Kyle Larson's rivalry is the hot topic for 2022, this is surely not the first time that two NASCAR drivers have been involved in an on-track altercation.
The 2011 Darlington race gave birth to one of the most heated feuds between NASCAR drivers, Kevin Harvick and Kyle Busch. After their run-in at the race, the tension between the two carried forward to the pit road. 
ADVERTISEMENT
Article continues below this ad
After the run-in at the Darlington Speedway, and subsequently, at the pit road, Harvick opened up about his views on the situation. While talking in an interview at Dover, Harvick said that there was no chance of reconciliation of differences between the two.
While talking about things getting better between the two, he said; "That probably won't ever happen."
Talking about the events that transpired after the race, Harvick said that Busch's contention of him punching was baseless. He said; "You see everything that happened after the race. And for me, the way that I was brought up and taught to race, when somebody hooks you in the right rear quarter panel, that's the equivalent of throwing your gloves off in hockey." 
To this, Busch replied; "Apparently, he's watching too much hockey. (Laughing) I did have a left rear tire flat. Believe that for what it's worth."
Saying that he has never gotten along with Harvick, Busch believes that there wasn't much between the two of them to discuss.
Kevin Harvick Vs Kyle Busch – Where did it all start?
It all started at the Homestead race at around 2010. While racing for position, Busch's car was pushed towards the wall during the race. When Harvick got behind Busch, his car pushed Busch into the inside wall. And obviously, the 'rowdy' did not like the altercation.
This dislike for the event was clear at Darlington. During the later part of the race, Kyle Busch, Clint Bowyer and Kevin Harvick were riding side by side. Soon, Bowyer made contact and Bowyer slammed into the inside wall of the track.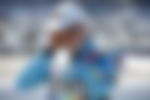 NASCAR soon put up the signal for caution but Kyle Busch saw this as an opportunity to get back at Harvick. Busch traded paint with Harvick and spun his car around, sending him off to the outside wall. Post race, Harvick followed Busch to the pit road and tried to punch him.
ADVERTISEMENT
Article continues below this ad
Parking his car right beside Busch's, Harvick stepped out to punch Busch. However, the Joe Gibbs Racing driver accelerated his car and pushed Harvick's right into the pit wall. 
WATCH THIS STORY: NASCAR Spotter Believes "God at Stewart-Haas Racing" Kevin Harvick Will Veto Kyle Busch's Move
ADVERTISEMENT
Article continues below this ad
Although NASCAR did not talk much about the feud between the two of them, they did admit that Harvick throwing in a punch at the end of the race was not cool.
The incident, although actually harmless, could have caused safety issues for drivers and pit-crew. Fining both the drivers $25,000 and imposing a probation, NASCAR's senior director of competition said; "There are going to be times when NASCAR is going to have to step in, and this was one of those times because of the incident on pit road last week. It's got to be done where you're not impacting the performance of others or putting safety on the line."
Edited By: Ranvijay Singh