"Being Able to Pick Kyle's Brain" – John Hunter Nemechek Credits Kyle Busch and KBM for Success in NASCAR Trucks
Published 04/07/2021, 1:00 PM EDT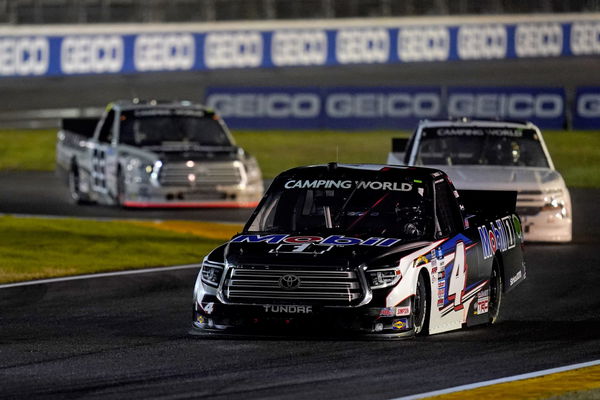 ---
---
John Hunter Nemechek raised many eyebrows when he announced his deal with Kyle Busch Motorsports in the NASCAR Truck Series for 2021. Unlike other drivers, he moved from the Cup Series to Trucks and has said that he wants to get back to winning titles in the sport.
ADVERTISEMENT
Article continues below this ad
So far, Nemechek has lived up to his billing in the KBM truck this season. In five races, he has finished outside the top-10 just once, and that too, due to a massive wreck in the Bristol dirt race.
In two of the races, he was involved in a battle for the win with team owner Busch himself. He beat Busch to win at Las Vegas a few weeks ago.
ADVERTISEMENT
Article continues below this ad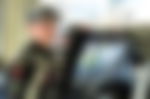 John Hunter Nemechek lauds the contribution of Kyle Busch in his success
Due to his consistency of three top-fives and one top-10 in five races, Nemechek leads the Truck Series point standings. He credited his early success so far in 2021 to a great team around him, and he believes that being able to rely on Busch for advice has helped him significantly.
In a recent interview, upon being asked about the reasons for his fine run, Nemechek said, "Just experience and being able to have a great team around me. The resources that Toyota is able to give us and the resources that KBM has.
"Being able to pick Kyle's brain on different things. He has assembled a great team around me," he expressed further.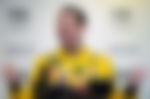 Additionally, Nemechek believes one of the biggest factors is having Eric Phillips atop the pit box. Phillips is the most successful crew chief in the Truck Series.
Nemechek hungry to win many more NASCAR Truck races with KBM
The No. 4 KBM Truck driver looks forward to more success with Phillips and the team in the weeks and months and come.
"Crew Chief Eric Phillips who is the most winningest crew chief in NASCAR Truck Series history is awesome to be able to work with. Looking forward to trying and get him back to Victory Lane every single week. We've just been consistent all year," Nemechek added.
ADVERTISEMENT
Article continues below this ad
Not just professionally, but Nemechek is enjoying a good 2021 on the personal front too. John's wife Taylor gave birth to their daughter last week.
Meanwhile, Busch himself has also been quite impressed with Nemechek's start to his Truck reign under KBM. While the Cup drivers return to racing this weekend, the next Truck race is next Saturday at Richmond.
ADVERTISEMENT
Article continues below this ad