"Biggest Pile of C**p I've Ever Driven at Atlanta" – Kevin Harvick Shows Frustration Early in NASCAR Cup Race
Published 03/21/2021, 5:06 PM EDT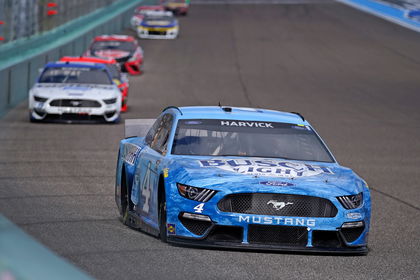 ---
---
Kevin Harvick has had an unusual start to the 2021 NASCAR season. His troubles seem to continue and mount with every race, and Harvick made his frustration known quite clearly during the opening stage at Atlanta Motor Speedway.
ADVERTISEMENT
Article continues below this ad
Harvick, who started the race in fifth place, started decently and made the top three early on. However, very early into the opening stage on Sunday, Harvick started to face issues with his car, which have consistently hindered his progress so far this season.
Harvick was in the top five as the competition caution came along in the first race. But soon after, Harvick had to return to pit road just before the restart, with a flat left rear tire. This halted his momentum considerably, and he soon faced other issues that dropped him even outside the top 20 in no time.
ADVERTISEMENT
Article continues below this ad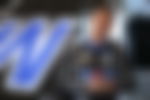 Kevin Harvick does not hold back his words early in Atlanta
A frustrated Harvick expressed his annoyance with the car during Stage 1, not mincing his words on the team radio.
"This is the biggest pile of c**p I've ever driven at Atlanta. I can't make it do anything. The front end – absolutely horrendous. When I get into traffic, it gets worse," said the driver of his No. 4 Ford.
Harvick soon dropped outside the top 25 in Stage 1, and to make things worse, he went down by a lap. Harvick tried everything to prevent race leader Kyle Larson from getting in front and preventing himself from going a lap down, but nothing worked.
The problems continue for the No. 4 team
Harvick has two wins in the last four races at Atlanta and has been one of the most consistent drivers at the venue. His latest race did not start anywhere close to favorable at all, and he could not figure out a way out of it.
"It's pretty unbelievable. It's so screwed up I don't know how you can fix it," the driver said again on the radio. "There is something majorly wrong with the front or it's just way too tight," Harvick further said to his team.
ADVERTISEMENT
Article continues below this ad
An update on Kevin Harvick from @DougTurnbull — The crew made an adjustment to help his right rear tire not be abused on the long run.

He desperately needs a caution to get caught back up as Larson drives up to his back bumper #FOHQT500

— PRN (@PRNlive) March 21, 2021
Ahead of the Atlanta race, Harvick's Stewart-Haas Racing crew chief Rodney Childers spoke about the team's troubles early on in the 2021 season. Childers admitted that some of the rule changes are affecting the car and they are trying to figure a way out.
ADVERTISEMENT
Article continues below this ad
They will need to fix things soon, as Harvick's comments early in Sunday's race do not present a good picture for the team.