Blake Reynolds and Logan Clampitt Collide for the Second Time in Virtual NASCAR Race
Published 07/02/2020, 5:24 AM EDT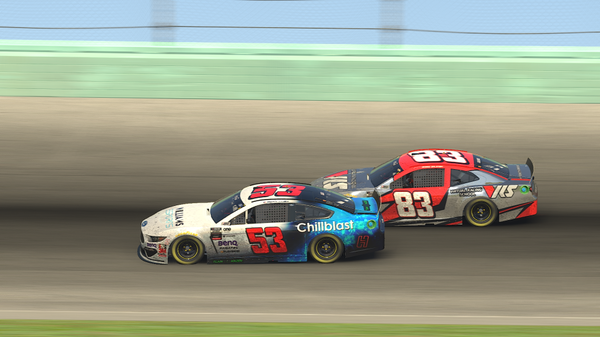 ---
---
NASCAR is notorious for its massive wrecks, known colloquially as 'The Big One'. The real-life accidents are terrifying, though luckily safety has improved over the years. Even in the virtual world, nobody is safe from The Big One, fortunately, there is no threat to a driver's safety.
ADVERTISEMENT
Article continues below this ad
During a previous race, E-racers Blake Reynolds and Logan Clampitt collided in a spectacular incident. This time, the two were at it again, and just couldn't stay out of each other's way. The good news was that there appeared to be no lasting damage and the two of them continued.
ADVERTISEMENT
Article continues below this ad
What else happened during the online NASCAR race?
ADVERTISEMENT
Article continues below this ad
While all this was going on, Keegan Leahy seized victory at The Brickyard, making it two wins in the 2020 season. Apparently, he pulled off a strategic masterstroke and ensured that he had the freshest tires by the end of the race.
He was battling Ray Alfalla at the time and did an over-cut by pitting five laps after Alfalla. By the time he caught up, Alfalla's tires were worn and he was helpless.
As reported by 'Kickinthetires.net', the driver with the Denny Hamlin avatar said, "That was crazy. What an amazing car, first of all. What a pleasure to drive. Honestly, I don't want to leave. I'm beat, you can probably tell I'm a little bit sweaty. This wheel is awesome, this saved me so many times during the race, and I don't think I would've won without it."
ADVERTISEMENT
Article continues below this ad
Alfalla did not help his own cause when he hit a wall and picked up some damage. As a result, his car was hobbling, compared to Leahy and Chris Shearburn. So, it wasn't long before the two overtook him late in the race. Fortunately, he maintained third ahead of fourth-placed Garrett Lowe and polesitter Michael Conti.
Completing the top 10 were Ryan Luza was sixth, Graham Bowlin, Casey Kirwan, Bobby Zalenski, and Nick Ottinger. Aside from the Reynolds and Clampitt incident, the caution came out on lap 18, courtesy Brandon Kettelle, Matt Bussa, and Jeremy Allen. Apparently, the trio slid into each other and into the grass.