Brad Keselowski Comes Forward With an Exciting New Playoff Format to Decide the NASCAR Championship
Published 11/21/2021, 3:06 AM EST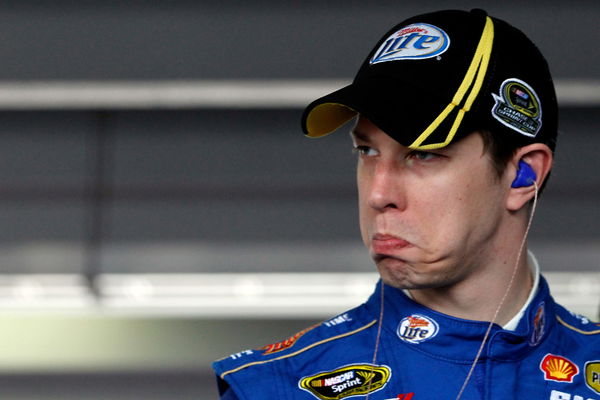 ---
---
Brad Keselowski recently posted a tweet with which he seems to criticize, or rather reiterate his thoughts, on the current NASCAR system. The system in question is one with which a champion is decided – the Playoff system.
ADVERTISEMENT
Article continues below this ad
Keselowski is a Cup Series champion himself, having won in 2012. But recently, the now team-owner-driver at RFK Racing replied to a tweet that described Darrell Waltrip's 1982 Winston Cup-winning season.
Waltrip had won the title with just three wins to his name while, second to him, Bill Elliott had 11 wins.
ADVERTISEMENT
Article continues below this ad
Keselowski explained how he's 'always felt' that the driver with the most wins should win the title. He suggested that the last race should be a 'tie breaking' moment, which would fairly treat the drivers with more race wins and also ensure a Game 7 moment.
I've always felt like the championship should go to the driver/team with the most wins and the last race results show be the tie breaker. 🤷🏼‍♂️

This would give best of both worlds, a whole season that matters and strong potential for a "game 7" moment.

— Brad Keselowski (@keselowski) November 20, 2021
The current system has found many critics as race wins or rather race winners aren't prioritized as much. That there are possibilities in which the driver with most race wins may lose the title to a driver with fewer race wins. And this works just the opposite as well.
In the Xfinity Series this season, Daniel Hemric took home an extraordinary result in Phoenix. He won the title with the FIRST win of his CAREER.
This reignited the discourse around NASCAR's playoff system, but it could've gotten more heat had the Cup Series title been any different from what it was the following day.
Kyle Larson could've lost the Cup Series title to Brad Keselowski
Hypothetically, let's assume Brad Keselowski had qualified for the Last 4 in Phoenix.
With his bags packed from Team Penske, Keselowski had more than enough motivation and enough skill and talent to win the race in Phoenix. This would've meant that Keselowski's second win of the season would've 'earned' him his second Cup Series title. A perfect farewell.
ADVERTISEMENT
Article continues below this ad
But imagine how unfair it would've been to Kyle Larson. The Hendrick driver had won 9 races before Phoenix and had led the most laps in 2021.
Of course, in reality, it was Kyle Larson who deservedly, with his 10th win of the season, capped off a historic year for himself. Yet the lingering possibility remains, he could very well have ended the season with a bittersweet taste.
ADVERTISEMENT
Article continues below this ad
What Brad Keselowski would've said had he won the Cup Series title in the fashion as described above, is up for speculation and assumption. But in any case, the reality remains what it is, the current NASCAR Playoff system is unfair to race winners.
Enjoyed reading this article? Download our exclusive app to get 24x7 coverage, latest memes and social media banter. Click here to download.