Team Penske drivers Brad Keselowski and Ryan Blaney were involved in a crash on Sunday that sent both drivers packing. The incident occurred late in the Consumers Energy 400 NASCAR Cup Series race at the Michigan International Speedway.
Battling for the lead, Keselowski and Blaney were racing side-by-side in Lap 96 of the 156-lap race, when it all unraveled for both the stars.
Brad Keselowski and Ryan Blaney crash into the wall
They were racing into Turn 1 when Keselowski lost control of his No. 2 Ford, sliding into the left-rear quarter panel of his teammate Blaney's car, who was in the No. 12 Ford.
The contact sent Brad Keselowski hard into the outside retaining wall at the exit of Turn 2 and Blaney followed suit. Both drivers were forced to retire from the race due to the severity of the damage to their cars.
"I just lost it … it's my fault."

Brad Keselowski gets loose trying to pass teammate Ryan Blaney and ends both of their days early. pic.twitter.com/AT63CYFg4c

— FOX: NASCAR (@NASCARONFOX) August 9, 2020
Blaney was able to drive his car back to the garage area. However, Keselowski's car came to a halt on the backstretch.
Keselowski, towards the end of the race, said it was Kevin Harvick behind him who gave him a push, but took full responsibility for the incident.
"I just lost it. It's my fault. I feel really bad for my teammate, Ryan Blaney. He didn't deserve that," Keselowski told NBC Sports.
"I just came off of Turn 4 and the 4 car (Kevin Harvick) was behind me and he gave me a push and I swear I went into the corner like 20 miles an hour faster than I had been all day and got past the 11 (Denny Hamlin) and I went to get underneath the 12 and I just slipped," Keselowski added.
Blaney rues the unfortunate incident
Keselowski eventually finished the race in 39th place. Blaney was just ahead of him in 38th place. Fortunately, Keselowski (3 wins) and Blaney (1 win) have already secured their place in the playoffs.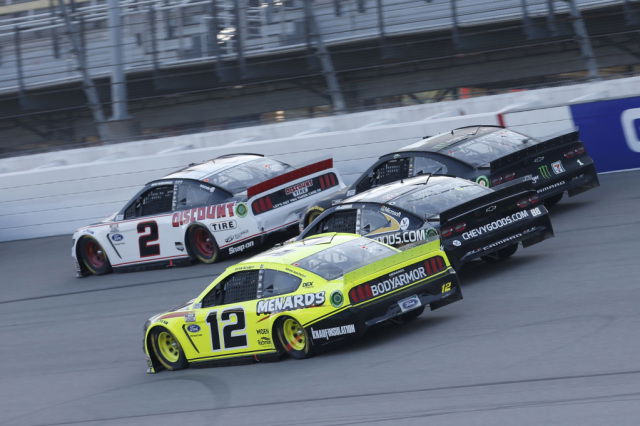 Blaney said the crash between him and Keselowski was unfortunate as they both looked in great shape before it happened.
"It's just unfortunate for the whole Penske organization. We were so fast. We had to battle back from having to pit again and got to 10th for the second stage and then got the lead," Blaney said.
"I was like, 'All right, we can finally go back at it,' and just got together there. That's unfortunate, but it's not gonna carry over. Things happen. Mistakes happen. It's just a shame both of us got taken out," he added.
SOURCE- NASCAR, Twitter- FOX: NASCAR