Brad Keselowski to Run a Special Tribute Paint Scheme in the 2021 NASCAR Race at Atlanta Motor Speedway
Published 01/09/2021, 9:30 AM CST
---
---
For the 2021 NASCAR Cup Series season, Brad Keselowski is set to run a special livery. A list of army veterans and military service members' names will be emblazoned on Keselowski's Autotrader Ford. This only applies for the Cup Series race at the Atlanta Motor Speedway on March 21.
ADVERTISEMENT
Article continues below this ad
In the United States, the general public has a lot of respect for army personnel. This is all the more reinforced when it comes to the army veterans. In fact, the country even has a holiday to honor any army personnel who were felled in the line of duty.
Every year, NASCAR also takes this opportunity to honor the troops.
ADVERTISEMENT
Article continues below this ad
The livery change is part of the Brad Keselowski's Checkered Flag Foundation event, Tribute to Veterans. Over here, fans have to nominate a military member and submit it with a purchase.
In response, they will receive a personalized certificate within 48 hours of purchase. Once the race wraps up, they will also receive a letter from Keselowski, as well as a commemorative gift.
How to get a name on the special car run by Brad Keselowski?
It is also worth mentioning that people can even submit more than one name, however, they need to run through the order form once again. Additionally, the site cautioned against choosing the 'more than one' option in the Quantity section.
Once fans have made the purchase, they will get a receipt from the foundation for their tax-deductible donation.
ADVERTISEMENT
Article continues below this ad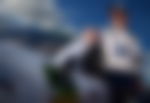 This is just Keselowski's way of giving back to the troops and pledging his loyalty to his country. As mentioned before, a large majority of people truly respect the armed forces.
Besides, what better way to honor them than by having their names on a NASCAR machine during a race? Of course, the 2021 Cup Series season has yet to begin, but Brad Keselowski and his rivals will be eager to hit the ground running.
ADVERTISEMENT
Article continues below this ad