NASCAR Esports: Brandyn Gritton Pulls Off An Incredible Last Lap Pass to Win the Atlanta Race
Published 06/27/2020, 12:33 PM EDT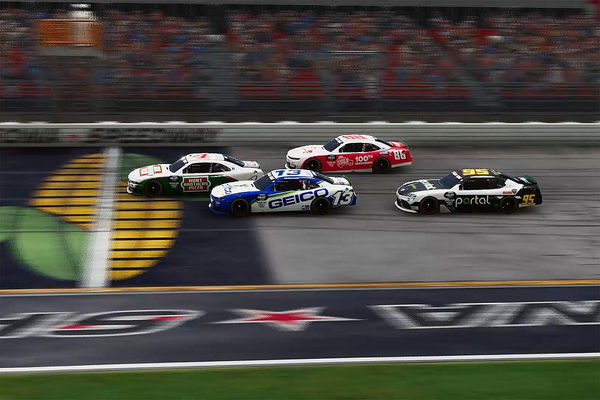 ---
---
Even though real-life NASCAR races have resumed, there are still plenty of online races to tide things over. Online gamers normally use NASCAR Heat to hop into a stock car and race. Now, at the NASCAR Heat Pro League championship, defending champion Brandyn Gritton won the race at the Atlanta Motor Speedway.
ADVERTISEMENT
Article continues below this ad
Heading into the final lap, the #14 of Gritton was right on the rear of the #95 car of Josh Harbin. There was plenty of contact before Gritton bumped his rival out of the way. To his credit, Harbin did his utmost to stay off the wall but lost plenty of precious positions. Eventually, he did brush the wall on the outside, while Gritton went on to win the race.
ADVERTISEMENT
Article continues below this ad
How did Brandyn Gritton perform in the race?
Gritton had a massive fight on his hands, against Harbin and the #13 of Kyle Arnold, as the trio swapped the lead several times. Soon, the tide turned in Gritton's favor when the caution came out and he dived into the pits.
Speaking to Front Stretch, he said, "Well, I'm kind of glad (the caution came out) because I had messed up and hit the apron and gave the lead away. When it came out, I felt good about it, especially since Bear [Harbin] stayed out, did not take no tires or anything, so I knew that gave me a chance if I could hurry up and get in behind him. So that's how it all worked out in my favor."
Meanwhile, Jason Mitchell and Maxwell Castro completed the podium. Behind them, Josh Parker and Corey Rothgeb ended up in the top five. In the end, Brandon Gritton held on to take the victory and get right in the thick of the championship battle. Now, he is aiming to keep up the momentum and hopefully secure the championship.