Brett Griffin Believes NASCAR Is "Already Failing" if Decisions Are Taken Based on IndyCar
Published 05/04/2022, 11:16 AM EDT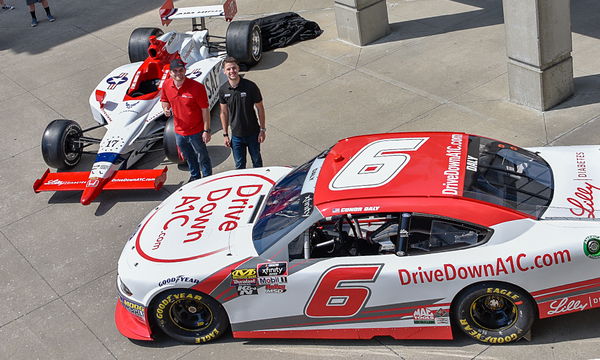 NASCAR and IndyCar are two of America's hugely popular motorsports. Both are high-speed, action-packed racing sports with one goal in common, cross the finish line before anyone else. Even though they're all four-wheeled racing cars, they're a lot different from one another.
Both the auto racing companies have races all over the country throughout the season. At times they share the same track simultaneously. However, are the rules the same? Do the most popular motorsport (NASCAR) in the US follows IndyCar regulations? Brett Griffin answers.
ADVERTISEMENT
Article continues below this ad
NASCAR came up with stage races in 2017 and later in 2019 they introduced the qualification and knockout process similar to IndyCar and F1. As it seems, these introductions made modern NASCAR go through a lot of changes.
So this brings up some questions – Are they following the path of IndyCar lately? Is NASCAR's viewership getting affected by it?
Talking about this, NASCAR spotter Brett Griffin conveyed, in Spotify's Door Bumper Clear episode, "It isn't even a pimple on a bull's ass on our sport. I mean it all with due respect. They have a couple of 300,000 viewers, to our 2.4 to 4.5 million viewers. If we're making decisions by seeing what IndyCar's doing, we're already failing."
Where does NASCAR stand as compared to IndyCar?
ADVERTISEMENT
Article continues below this ad
Even though the two sports are based in the US, there is a huge difference in viewership and popularity. NASCAR is by far the most popular form of Motorsports in the North American country without a doubt. Whereas, IndyCar falls behind Formula 1 in terms of popularity and spectatorship.
NASCAR has been America's favorite since its inception. Having started 74 years ago in 1948, the sport has taken over as the crowd favorite. The Cup Series, Xfinity Series, and Truck Series have gone through huge changes over the years. Most importantly the introduction of NextGen cars in the Cup Series.
ADVERTISEMENT
Article continues below this ad
WATCH THIS STORY: NASCAR Driver Reveals The 6 Million Obstacle In Kyle Busch Leaving Joe Gibbs Racing For Stewart Haas Racing
As for IndyCar, it is slightly similar to F1. Since the popularity of F1 is growing in the US, it is believed that the viewer base will shrink simultaneously. All in all, IndyCar stands nowhere near to NASCAR when it comes to crowd base and fame.