Bubba Wallace and Alex Bowman Read Out Hilariously Unhilarious 'Dog Dad Jokes' on the Occasion of Father's Day
Published 06/20/2022, 6:00 AM EDT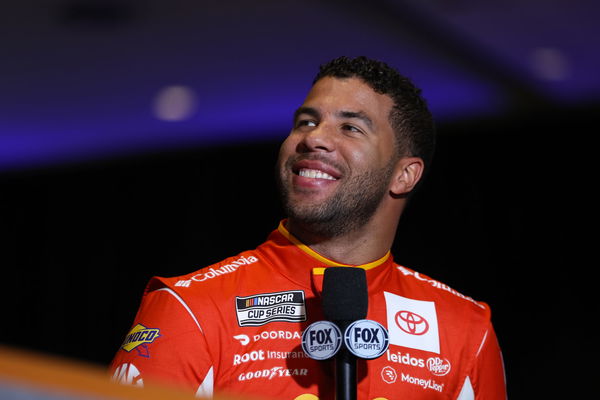 NASCAR drivers may be some of the fiercest competitors in the world of sports. Think about it: a normal day at work requires an incredible amount of physical, mental, emotional, and psychological strength for them. So it's perhaps fair to give them a pass when it comes to comic timing, something Bubba Wallace and co. recently proved.
In a video posted by NASCAR on NBC, Bubba Wallace, Alex Bowman, and AJ Allmendinger read out some ' dog dad jokes' on the occasion of Father's Day. And to say those jokes lived up to their name, would be an understatement.
"What kind of dog doesn't bark? A hush puppy," Allmendinger began.
ADVERTISEMENT
Article continues below this ad
"What did the dog say when it sat on sandpaper? Rough-rough," Wallace said.
"What's a dog's favorite time to go to the bathroom? 2-turdy," Bowman read out.
"Why are dogs such bad dancers? They have two left feet," Wallace concluded.
Watch This Story: Bubba Wallace's Reaction as His Engine Blew Up for No Reason in Sonoma
Bubba Wallace reveals how the relationship with his father changed with docu-series
Earlier this year, the Netflix docu-series, Race: Bubba Wallace shed some light on the fragile relationship the 23XI Racing driver shared with his father, something that got worse after a particular point in his life.
ADVERTISEMENT
Article continues below this ad
But in a recent interview with CBS, the Talladega winner revealed the positive impact this docu-series has had on this very aspect of his life.
"To be honest with you, the docu-series just came out, and shortly after I received a text message from my father, a very positive text message," Wallace said. "That surprised me, but my family and I were praying for it. So I think we're starting to rekindle."
ADVERTISEMENT
Article continues below this ad
Wallace admitted, "There's a lot of work to be done."