Bubba Wallace Reacts to NASCAR Legend Dale Earnhardt Jr's Drive in a Restored Chevrolet Nova
Published 03/07/2021, 7:45 AM EST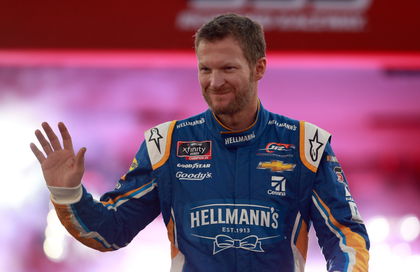 ---
---
As it turns out, Dale Earnhardt Jr is quite a classic car aficionado. Recently, the former NASCAR racer undertook a massive side-project; he got hold of a Chevrolet Nova and set about restoring it to its full glory. He decked it out in the classic colors of his father's Richard Childress Racing car. And Bubba Wallace was one of many people who loved the car.
ADVERTISEMENT
Article continues below this ad
Others included Clint Bowyer, Landon Cassill, and Ryan Vargas, who also praised the car to the high heavens. In addition to that, former NASCAR driver Kevin Lepage revealed that he raced against the car in his heyday. According to his testimony, Dale Earnhardt Sr once started from the back of the grid in that car and still ended up winning the race.
How did Dale Earnhardt Jr undergo the process?
ADVERTISEMENT
Article continues below this ad
Apparently, Dale Jr stripped it down almost completely and essentially built it from the ground. Safe to say, the final result was a stunning piece of work and a spitting image of Dale Sr's iconic car.
ADVERTISEMENT
Article continues below this ad
Of course, his son did not limit himself to the physical aspects of the car. He even took care of things like the engine and the other specifics. Other modifications included installing a squared up rear end, removing trailing arm slug adjustments, and installing a 9.75 even track bar. In addition to that, Dale Earnhardt Jr also fitted a +.5 LF 3.5 RF caster, a -2.8 LF 3.3 RF camber, a 1/8 toe out 113" wheel base, and a 1/8 shorter RS Neutral swaybar.
Once everything was fitted, the former Hendrick Motorsports driver took the car for a spin. Needless to say, the car is a stunning piece of machinery and the sound emanating from it was practically a symphony.
Dale Earnhardt Jr definitely had plenty of fun while rebuilding his late father's car and taking it for a test run. It just goes to show how much he is enjoying life as a retired racing driver who is free to pursue his hobbies.
ADVERTISEMENT
Article continues below this ad