Bubba Wallace & Ryan Blaney Put $500 Million NASCAR Sale Under Heavy Scrutiny as Kyle Larson Goes Against the Grain on His Own Home Track
Published 02/26/2023, 10:54 AM EST

Follow Us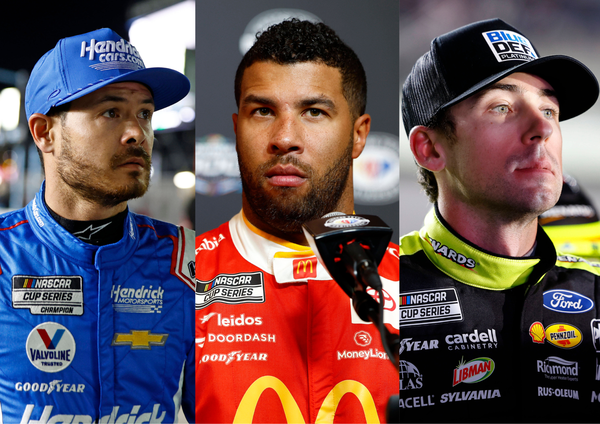 The Auto Club Speedway has been much-loved by fans and drivers alike purely for the quality of racing it has produced ever since Roger Penske made the track and brought it to the NASCAR Calendar. But it seems like the 2-mile era of Fontana's speedway will come to an end pretty soon as NASCAR has sealed a multi-million-dollar deal. NASCAR plans on selling most of the track for a whopping $544 million, which will lead to the Speedway becoming a half-mile short track. Cup Series drivers like Bubba Wallace and Ryan Blaney were some of the first ones to openly talk about their distaste toward the governing body's move. However, not everyone had this point of view.
As the Auto Club Speedway weekend comes closer, the community faces the impending loss of heritage and everything they know about Kyle Larson's home track. This saw Bubba Wallace and Ryan Blaney describe the pure joy of racing on the original track.
Bubba Wallace and Kyle Larson sang praises for the Auto Club Speedway
ADVERTISEMENT
Article continues below this ad
Bubba Wallace is one of the many drivers who have always been very fond of racing at Fontana. Naturally, as a fan of the track, he was quick to complain. He was reported by Racer.com as saying, "That's such a shame."
The 23XI Racing driver is so fond of the track that he even said, "I wish we could just pick it up and move it. Move it to my backyard—it's not that big, but move it somewhere where we could go race there weekly. It's that type of racetrack. It's fun. It's bumpy. It's worn out."
"It always provides great racing, I feel like. You just slip and slide. It's a bigger Homestead. I think the best tracks are in the middle of nowhere."
Wallace's friend echoed his views and responded to NASCAR's decision. The story of Blaney and Wallace's friendship goes far back to their early days in NASCAR. Though their friendship might not have much to do with their stance on the unavoidable fate of the Auto Club Speedway, the views are essentially the same.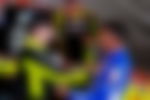 Ryan Blaney said, "I wish they would leave it. I think you talk to any driver who is going to come through there, and they will tell you the same thing. That place is one of the funnest, coolest race tracks that we go to. We all said the same about Atlanta. We all said the same about Chicago and Texas. And they have evolved and changed. So, I hate to see that place go"
"It is just a shame that something like that is going to have its last (race). There will be a big emphasis on trying to win the last one." 
While these two drivers seemed upset about the prospect of a final race at the original Auto Club Speedway, one person went completely against the grain. That is the very driver who grew up racing there.
Kyle Larson took a completely opposite route for his home track
Despite the memories, Larson is rather supportive of NASCAR completely changing the track. The 2021 Cup Series Champion said, "I feel like it produces amazing racing, but at the same time, I think we need more short tracks. I feel like sitting in the stands, it's hard to view a two-mile track or even mile-and-a-half (tracks). They're so big."
ADVERTISEMENT
Article continues below this ad
"I think short tracks produce exciting racing, exciting finishes, tempers, and stuff like that. I'm a proponent of making it a short track, and I think we need more of them."
One would have expected Larson to be against this move the most, but he has taken the opposite route. Maybe there is some hope for Fontana after all?
ADVERTISEMENT
Article continues below this ad
Whether unfortunate or not, NASCAR has sealed the fate of the Auto Club Speedway at this point. What do you make of the trio's takes on the track?
WATCH THIS STORY: "That's Just Not Me" – Bubba Wallace Provides Fresh Details on His First Interaction With Michael Jordan
Edited By: Nischal Kandpal