Bubba Wallace Sets Sights on Consistent Finishes and Potential NASCAR Cup Win in 2021: "Only a Matter of Time"
Published 03/26/2021, 11:15 AM EDT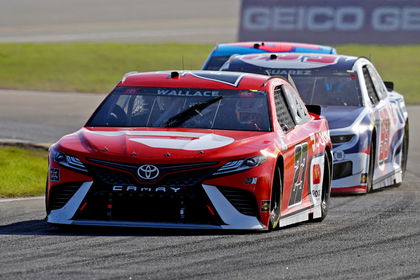 ---
---
Bubba Wallace is yet to make a big impression with his new NASCAR team, Michael Jordan and Denny Hamlin's 23XI Racing. It is difficult to find the perfect flow right away with a new team and Wallace acknowledges that.
ADVERTISEMENT
Article continues below this ad
However, Wallace has shown signs of improvement, especially in the last couple of races. He has two 16th-placed finishes in the last two races in Phoenix and Atlanta. With that, Wallace's confidence is rising as well, and he believes it is just a 'matter of time' before higher finishes and probably even a win, come his way.
"The way everything is going on and the direction in which we're heading, it's only a matter of time before we can really hit some strides," Wallace said recently during a media interaction.
ADVERTISEMENT
Article continues below this ad
Wallace showed appreciation towards Toyota, who is one of the partners with 23XI Racing. He praised their solid partnership and expressed how he has always been comfortable with the leading manufacturer, even when he was not part of their program.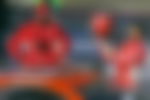 Bubba Wallace highlights the importance of partnerships with Toyota, JGR
"That brings confidence to the race track, brings confidence to our race team, our resources, our race cars, and personnel, you name it," Wallace added.
Another major partnership the new team has is with Hamlin's Joe Gibbs Racing outfit. Wallace feels it is a big plus to be able to use the infrastructure and database on offer at JGR. Additionally, knowledge sharing with top drivers, crew chiefs, and engineers is also helping 23XI Racing improve, feels Wallace.
Having said that, he understands the challenges out there. Despite the resources at his disposal, Wallace needs to make the most of every day at the race track.
Not going to be a cakewalk, says the 23XI Racing star
"This sport is tough and it's hard at the top level. No one said it's going to be easy. Just because we have all the resources and partners in place doesn't mean it's going to be a cakewalk for us," Wallace expressed.
"We have to go out there and grind and establish ourselves first, and we're doing that. So we're showing progression at each and every step and I'm excited about that," he added.
ADVERTISEMENT
Article continues below this ad
The 27-year-old is also happy with his developing relationship and chemistry with crew chief Mike Wheeler, as they dig deeper to bag a maiden Cup win.
Up next for Wallace and the team is the much-awaited Bristol dirt race, this Sunday. Wallace has a NASCAR Truck win on dirt before and hopes to use that experience on Sunday.
ADVERTISEMENT
Article continues below this ad