Bubba Wallace's Future Wife Was Left Dumbfounded When Confronted by Him
Published 10/03/2022, 11:05 AM EDT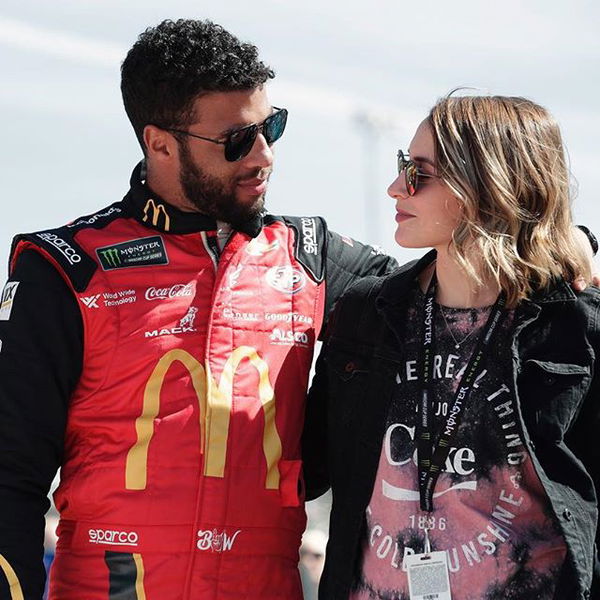 Cruising through the race tracks every week, voicing his opinions unabashedly, and getting ready to do that all again. 23XI Racing's Bubba Wallace is all that and much more. However, amid his time in the public eye, the NASCAR driver gets little to no time to spend with his soon-to-be wife. But that doesn't mean that the two compromise on bagging some fun moments.
ADVERTISEMENT
Article continues below this ad
In Netflix's documentary 'Race: Bubba Wallace,' NASCAR fans across the world got a chance to witness the polarizing driver's passion for his profession – racing. Moreover, they also got a sneak peek into Wallace and his fiancee Amanda Carter's relationship.
ADVERTISEMENT
Article continues below this ad
In a short clip from the series shared by Wallace on Facebook, Carter can be seen reminiscing about the time when Wallace confronted her about something crazy. In the short clip, Wallace is fixing a light at his home while Carter is explaining where exactly the light should go.
But suddenly, Wallace starts narrating a dialogue and asks Carter which movie is it from. He says, "From Monroe. You went to Monroe? No, I went to Jefferson.' What movie's that from?"
Unaware of where that dialogue was from, a blank Carter looks at Wallace and gets back to her work. Surprised that she doesn't know about it Wallace tells her that it was from the movie Life. And Carter casually says "I knew that." But as one would expect, Wallace refused to believe it and decided to confront her.
He said, "No you didn't! You've never seen Life." Carter continued to hold her ground that she has watched the movie. And the conversation that ensued was nothing less than hilarious. On his fun mission to prove his fiancee wrong, Wallace asked her to give another line from the movie.
And as someone who hasn't watched the movie and isn't looking to lose during the confrontation, Carter looked at Wallace and replied "Jefferson?" This answer sent the two of them into a burst of laughter. And the whole confrontation anecdote became the perfect piece of entertainment for the fans.
When Amanda Carter Roasted Bubba Wallace
Bubba Wallace recently registered his second Cup Series career win at the Kansas Speedway in September. However, the ensuing Texas race was not a great one for the 23 XI Racing driver. Due to a failed power steering, Wallace was not able to finish his race the way he expected to.
ADVERTISEMENT
Article continues below this ad
After the race, Carter left a message for him. And what was hilarious is that the message was something that Wallace was not expecting.
ADVERTISEMENT
Article continues below this ad
WATCH THIS STORY: All to Know About Bubba Wallace's Beautiful Fiance and Analyst – Amanda Carter
The tweet made the entire NASCAR community laugh. And Twitter users, including NASCAR's official Twitter account, left their comments below the post.