Bubba Wallace's Right-Hand Man Posts "Unbiased Opinion" That Is Brutally Taken Down by NASCAR Fans
Published 01/21/2023, 2:30 PM EST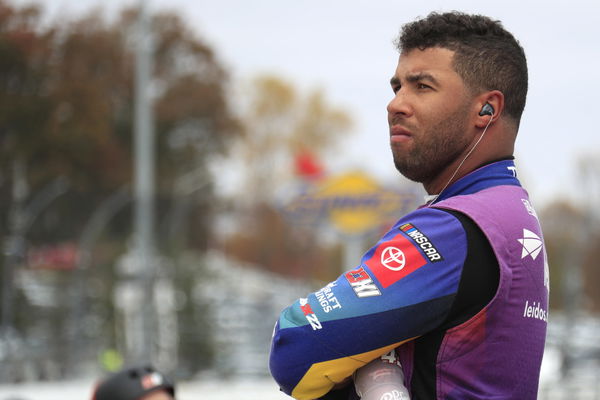 Every season is a new opportunity. A new opportunity for teams to perform better. For drivers to accumulate wins, and possibly win the title as well. In those terms, 2023 might be the biggest season yet for Bubba Wallace in the Cup Series.
Wallace finished the last season in 19th place, a career-best finish in the competition for the 23XI Racing driver. However, if he were to look back, he'd find quite a few "issues" with that season.
ADVERTISEMENT
Article continues below this ad
Of course, the Kyle Larson incident in Las Vegas will shroud his reputation for a long time. But other than that, Wallace had a few problems with performance as well. He told RACER Magazine's Kelly Crandall, "It took us all year to figure out this car; we're still figuring it out day by day."
Wallace led for a total of 31 laps in the first half of the season. The driver had a shocking 5 DNFs in the 18 races he ran during that period. His 2 best finishes were the 2nd-place at Daytona 500 and the 10th-place finish in Kansas. With the 2023 season on the horizon, both Bubba and 23XI will be hoping he can carry his form from the second half of the season forward.
23XI will also be hoping their other bets for the season pay off. Tyler Reddick, for one, has the credentials to have some expectations from the team. Travis Pastrana, meanwhile, will be hoping to make his debut in the Cup Series at Daytona.
With the great equipment that the team has, and with the experience of Denny Hamlin to back them, they should be doing better. The least they will want from their drivers is a place in the playoffs. Anything more will be an added bonus.
NASCAR fans don't agree with the Bubba Wallace hype
23XI might be looking towards 2023 with optimism, but there aren't many others who share that sentiment with the team. A tweet from Freddie Kraft, Bubba's spotter, didn't go down well with fans.
Fans were clear—it wasn't an unbiased opinion.
Doesn't Denny sign the checks? He's got to be #1

— SierraCharlie21 (@SierraCharlie21) January 17, 2023
But without Bubba's endorsement, that check could go to someone else. Keeping Bubba happy = the checks keep coming.

— Jenny Wyatt (@Jenny_Wyatt) January 17, 2023
He's starting at the bottom and working his way up…….I think….

— Frankie Poole (@FLPoole2) January 17, 2023
I applaud the amount of research you did to come up with this excellent unbiased list.

— Brian Clifton (@bclifton67) January 17, 2023
ADVERTISEMENT
Article continues below this ad
ADVERTISEMENT
Article continues below this ad
Watch This Story: Denny Hamlin Knows How to Laugh at Himself Amid Shocking Kurt Busch Revelation
23XI and Bubba's performances over the past years leave a lot to be desired. At the same time, 2023 offers them a chance to change that.
Edited By: Nischal Kandpal