"Can't Be Sorry" – Chase Elliott Explains Last-Gasp Move on Ryan Blaney in Dramatic NASCAR Busch Clash Race
Published 02/10/2021, 8:00 AM EST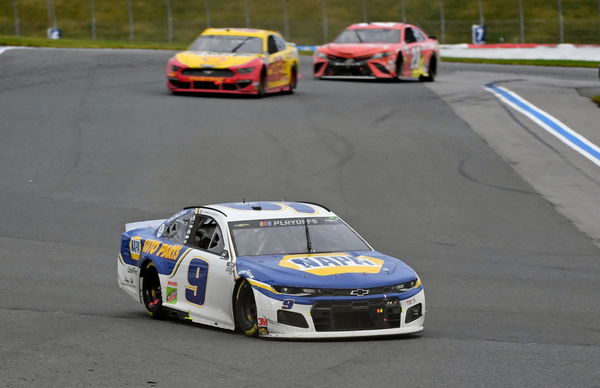 ---
---
The 2021 Busch Clash has just concluded with Kyle Busch winning. However, the two main contenders were Chase Elliott and Ryan Blaney, who were battling hard for the race lead and the win. Meanwhile, Busch simply hung back and waited for the right time to strike.
ADVERTISEMENT
Article continues below this ad
Needless to say, that moment came during the final lap. At the time, Blaney was leading, but Elliott was right on his tail. Heading into the final set of chicanes, Chase Elliott dived around the outside, which gave him the inside line for the next corner. Unfortunately, that was when things started to go wrong really fast.
ADVERTISEMENT
Article continues below this ad
The two collided and poor old Blaney got sent into a spin. With Chase Elliott compromised, Busch struck and got alongside the Hendrick Motorsports driver to overtake and win the race.
Chase Elliott gives his thoughts on the matter
ADVERTISEMENT
Article continues below this ad
Speaking about the race, he said, "I think you have to try to win the race for sure. I can't be sorry, if I'm sorry about trying to win the race, I'm in the wrong business. I'm certainly going to give it my best shot. To do that, I thought, in that position, I don't know what to do."
He admitted that he tried to snatch the inside line and roll into position. Elliott acknowledged that if he took the corner too quick, he ran the risk of riding on the kerbs. Meanwhile, if he went too slow, he and Blaney would be forced to pick separate lines and they would eventually collide.
Now, all that the two of them can do is move on from the incident. From there, they have to shift their focus on this weekend's Daytona 500. Chase Elliott will be under a bit of pressure to win the race, especially since he is the reigning champion.
ADVERTISEMENT
Article continues below this ad