Chase Elliott's Injury Might End Up Saving Him as Hendrick Motorsports Faces Massive Scrutiny Over Alleged $100K Breach
Published 03/12/2023, 7:29 PM EDT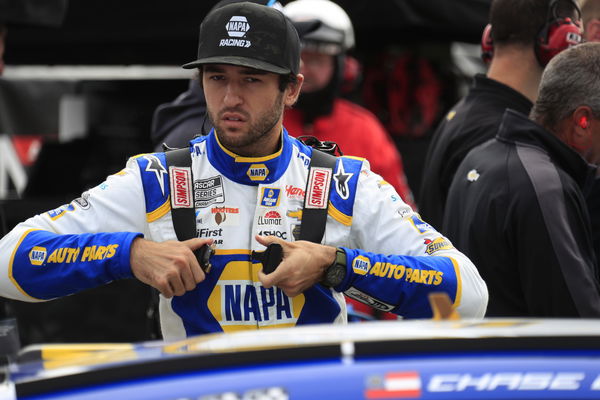 Hendrick Motorsports has found itself in quite a tough spot. Because they appear to be making the same mistake Kevin Harvick and Brad Keselowski made last year. But their loss might end up making Chase Elliott the winner in the end, because his injury can save him from a possible penalty.
Modifying a single-source part in the Next-Gen car might be the biggest "red flag" since the conception of the Next-Gen car. And the first case came after the 2022 race at the Atlanta Motor Speedway where Brad Keselowski got a $100,000 slap. On top of that, the #6 team was also docked 100 points, essentially throwing any shot at the championship down the drain. But they weren't the only victims.
Maybe Keselowski's lesson wasn't enough to straighten the entire grid's spine, because the Talladega weekend saw Kevin Harvick fall into the same pit. Now, it seems that HMS, considered by many as NASCAR's favorite, might end up incurring penalties as well.
ADVERTISEMENT
Article continues below this ad
Hendrick Motorsports is in deep trouble, maybe?
Bob Pockrass announced on Twitter that HMS has probably made the very same blunder. He then went on to explain exactly where the problem was, literally taking a page out of NASCAR's rulebook.
Diagram from rulebook on piece taken from Hendrick cars. Frame with ridged plates — one complete piece that directs air flow thru hood vents. Any modifications could impact downforce. Teams have had issues with them fitting but been told to work with manufacturer & not to modify. pic.twitter.com/rthKrjWvut

— Bob Pockrass (@bobpockrass) March 11, 2023
Rules dictate that if the test results from the NASCAR R&D Center in Concord, North Carolina, indicate that modifications were made to the hood louvers, HMS might be penalized. This could mean that over the next few weeks, fans can expect to see a sweat-induced sheen on Rick Hendrick's forehead.
He might even have to say goodbye to any possible playoff contention. Well, for everyone except Chase Elliott, because if the team is indeed fined, Mr. Popular could end up higher than other drivers in HMS, making him the only championship contender.
If NASCAR were to find any modifications from Hendrick Motorsports relating to the hood louvers (NG part), similar penalties in the past have been the following:

– 100-point penalty (driver/owner), reduction of 10 playoff points, four-race suspension (crew chief), $100,000 fine

— Austin Konenski (@AustinKonenski) March 11, 2023
But neither the rules nor fans' reactions to the news are as straightforward as they seem.
NASCAR fans just find the situation funny
Hendrick Motorsports has been the poster child of favoritism for countless years. And there is some material to back the fans' claims about that, but there are some things that are much too complicated to understand. But that doesn't go for the fans because, for them, HMS facing any consequences is a joke, more than anything.
Some fans even quoted Bob Pockrass and called it an "excuse" they are using, "'Teams have had issues with them fitting. If they're gonna use this excuse, HMS better hope they're like Penske last year. If they can show some papertrail that they approached NASCAR and said "there's a problem with how these fit so we might have to…," maybe they can lighten the penalties." 
It's nascar's beloved hendrick team. Nothing will happen.

— kyle12k (@kyle15684197) March 11, 2023
Others even joked about Hendrick drivers getting more points, "Each Hendrick driver will recieve 100 EXTRA points for this penalty."
ADVERTISEMENT
Article continues below this ad
Is NASCAR going to have the same energy with this as they did with Keselowski last year?

— RacinAndWrasslin (@Nissan370Z34) March 11, 2023
Some fans believe this is going to be nothing more than a little annoyance to Jeff Gordon's lunchtime, "Soooo anyone think they'll actually penalize HMS? Or Jeff Gordon just not allowed his lunch money for a week and has to mow the lawn?"
ADVERTISEMENT
Article continues below this ad
WATCH THIS STORY: Denny Hamlin Leaves NASCAR Fans in a Frenzy After Boasting Partner Michael Jordan's Signature Collection
It's still early days and no one knows if HMS is going to get penalized or not. But if they do appear to be at fault, will NASCAR treat them as they treat other teams?
Edited By: Nischal Kandpal