Chase Elliott Mocks Kyle Busch After Breaking His Trucking Series Win Streak
Published 05/27/2020, 8:45 AM EDT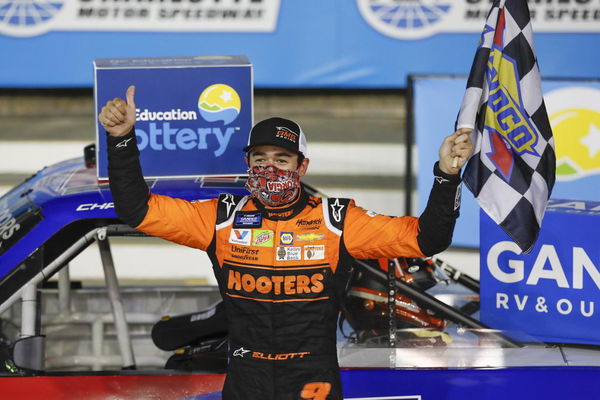 Chase Elliott ended Kyle Busch's seven-race streak in Truck series. He won the $100,000 bounty by beating NASCAR's best truck driver on Tuesday at Charlotte Motor Speedway.
Kevin Harvick declared before the race that he would give $50,000 for COVID-19 on behalf of any full-time Cup driver who completed in front of Busch. Marcus Lemonis, the CEO of Gander RV and Outdoors, which supports the Truck Series, consented to coordinate Harvick's promise, carrying the aggregate to $100,000 for pandemic help.
Elliott took the rivalry with Kyle Busch to the next level. He used Busch's celebratory bow after the race. Chase Elliott has earned yet another epithet Tuesday night – the Bounty Hunter. The cash goes to a foundation based on Elliott's personal preference, profiting COVID-19 alleviation.
ADVERTISEMENT
Article continues below this ad
Winning a Gander RV Trucks race at Charlotte Motor Speedway feels great. Although, not as incredible as a Cup race would feel, however sufficient to take a bow.
"It was a spur-of-the-moment thing. It's not a dig at anybody," Elliott said about the bow.
"Just having fun. It was about beating him, and it was fun, and we did it, so why not? Hopefully, no one gets their feelings hurt over it, but if they do, they do. Whatever."
Busch takes a dig at the celebration of Chase Elliott
ADVERTISEMENT
Article continues below this ad
Busch said he didn't notice the bow. Kyle further says he didn't know about it until he was asked about it during his post-race conference.
"Imitation is the strongest form of flattery or something, I don't know what it is," Busch said. "That's cute."
ADVERTISEMENT
Article continues below this ad
Elliott's success comes six days after Busch and Elliott were involved in an accident in the Cup Series race at Darlington and two days after Elliott's expensive choice to pit late in the Coca-Cola 600. Brad Keselowski won that race.
"It doesn't make up for Sunday, but it was still a really good night and to do some good for the relief efforts for this virus," Elliott said.