Chase Elliott Received Hilarious One-Word Advice on How to Handle Women From Hendrick Motorsports Teammate Jimmie Johnson
Published 11/29/2022, 10:00 AM EST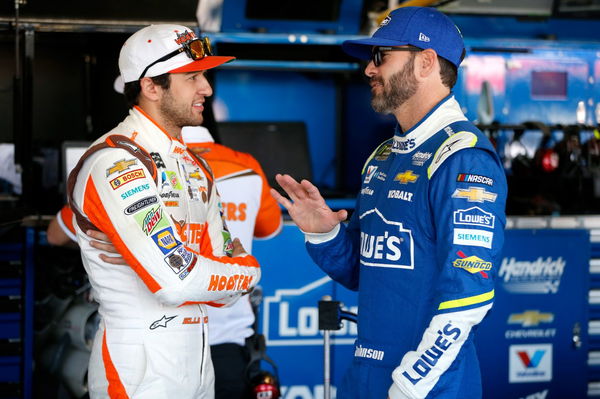 7-time NASCAR Cup Series Champion Jimmie Johnson has a lot to teach regarding stuff on the track. Especially when the person seeking advice is his rookie teammate, Chase Elliott. But what was that one intriguing off-track advice that Johnson gave Elliott six years ago?
Well, it was about how to handle women. During a conversation with Young Hollywood, the two Hendrick Motorsports drivers discussed their professional and personal life. And just then, in a segment where Johnson was asked to give away his piece of advice to Elliott, a hilarious one-word response lightened the duo up.
ADVERTISEMENT
Article continues below this ad
While talking to the drivers, the Young Hollywood asked Johnson to share his advice with Elliott on how to handle women. As a response to this, Johnson merely nodded his head with pursed lip, followed by a single-word reply – "Yes." This sent the host and Elliott into a burst of laughter. In fact, Chase pointed out Johnson and simply said, "Married… And wants to stay that way."
But this was not all. Johnson explained that he doesn't have much to say to Elliott on the topic. He said, " If I felt like it (a relationship) could be a distraction for him, I would definitely jump in the middle of it. But after knowing him for so many years, I mean he knows how to manage his personal life, his professional life."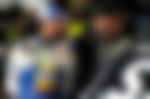 Further, he continued, "And it'd be very easy to have it lead you down the wrong road. I don't see that happening." Agreeing with Johnson's explanation, Elliott said that he hopes his relationship(s) never lead him down the wrong road. He said, "I hope not. We'll hope not. So, he does have that side figured out too. He's got about all of it figured out. So, it's impressive."
Jimmie Johnson on helping Chase Elliott deal with other drivers
Although Jimmie Johnson didn't have much to say about how Chase Elliott should manage his relationships with women, he had some advice on how Elliott should deal with other drivers.
ADVERTISEMENT
Article continues below this ad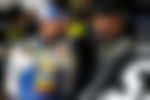 He said, "Other drivers, definitely some advice. I can help there. (I've) seen a lot of different styles and reactions, I guess. People get frustrated and mad."
WATCH THIS STORY: After Public Protests Along With Chase Elliott, Kyle Larson Update Sparks Concern Around Fan Favorite Event
ADVERTISEMENT
Article continues below this ad
Also, he didn't give any generic advice but said that he'll be there to help Elliott whenever the time comes. He said, "I don't think I have had to pass any advice on yet, though. But there'll be a time for sure."
Edited By: Akash Pandhare