Cole Custer Grabs Maiden NASCAR Cup Win After Going From Sixth to First Place in Two Laps
Published 07/13/2020, 9:42 AM EDT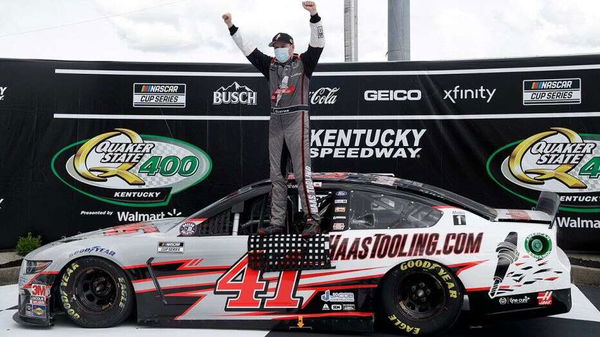 On Sunday, Cole Custer roared to victory during the NASCAR Cup Series race at the Kentucky Speedway. Initially, it looked like teammate Kevin Harvick would snatch an easy win, but the rookie had other ideas. In a daring move, Custer managed to pull off an epic 4-wide move.
ADVERTISEMENT
Article continues below this ad
As it turns out, this win is special for Custer because it is his first Cup Series victory and the first time a rookie won a race. The 22-year old confessed that he never expected his team to end up in victory lane.
When he spoke to NASCAR in a press conference, he said, "You just got to keep the momentum up, you got to try and make three-wide moves.
ADVERTISEMENT
Article continues below this ad
"Overall its a combination of everything that you've learned throughout your career, trying to time your restarts and get momentum."
He added, "Once you're upfront, you got to take advantage of it. It's unbelievable. I just came into this race hoping to get a solid finish. To come out of it winning is just unimaginable."
How did Cole Custer win at Kentucky?
Following the final caution, there were just two laps remaining and it was Kevin Harvick's race to lose. Meanwhile, Cole Custer was running in 6th place and preparing for the drive of his life.
Harvick and Martin Truex Jr traded the lead between themselves for a while.
However, Ryan Blaney and Custer were not about to be left out of the fun. The quartet went four-wide for the lead before Custer managed to sneak ahead.
Man I can't thank everyone enough that's helped us get here… Been some hard races this year, but having people that will stay behind you is unbelievable! I have a great team around me and we'll keep working to have more days like this! But for now we'll enjoy it🍻🍻🍻

— Cole Custer (@ColeCuster) July 12, 2020
ADVERTISEMENT
Article continues below this ad
As Harvick and Truex Jr. went side-by-side, Blaney stuck his car down the inside, while Custer took the outside lane. So, by the penultimate lap, they were four-wide and wheel-to-wheel.
It got worse for Harvick, as he appeared to clip Blaney and Truex, while Custer escaped unscathed to take the lead. Eventually, the 22-year old took the chequered flag ahead of Truex Jr, Matt DiBenedetto, Harvick, and Kurt Busch.
ADVERTISEMENT
Article continues below this ad
Blaney, Christopher Bell, Aric Almirola, Brad Keselowski, and Tyler Reddick completed the top 10.