"Counterfeit Could Mean"- Denny Hamlin Insinuates at Tony Stewart's Team's Bitter NASCAR Fate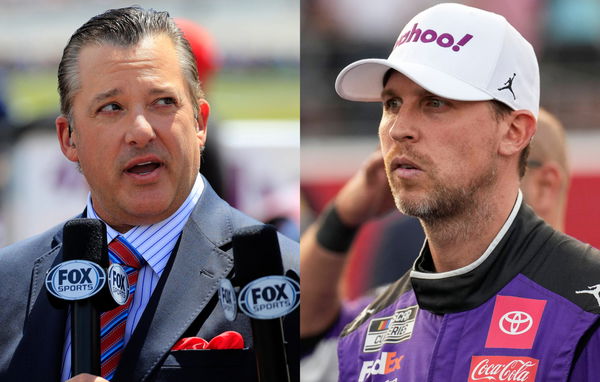 The past few days haven't been the best to be a Chase. At least, that's the case for Chase Elliott and Chase Briscoe. While the Hendrick Motorsports speedster was suspended for his reckless wreck of veteran Denny Hamlin, the Stewart-Haas Racing driver was slammed with hefty penalties after NASCAR found counterfeit parts on his #14 Ford. Now, the Joe Gibbs Racing driver shared his honest thoughts on the incident that did not involve him.
America's Favorite Video Today
NASCAR has dropped a massive hammer on the SHR driver after the action-packed Coca-Cola 600 when the organization took the #14 car to their R&D center. Following a closer inspection, the counterfeit underwing comments were caught, thus levying massive fines. In light of this, Hamlin expressed his cluelessness and raised concerns over the team's quality lapse.
Denny Hamlin Voices Some Unsettling Speculations as He Dives Deep Into SHR's Charlotte Fiasco
ADVERTISEMENT
Article continues below this ad
It was a week ago, that governing body issued a serious L3 penalty to the #14 team. Consequently, NASCAR issued the punishment: 125 driver and owner points, 25 playoff points, a hefty $250,000 fine, and a six-week suspension to crew chief John Klausmeier.
While, Stewart-Haas's competition director Greg Zipadelli admitted the "quality control lapse" and confessed, "part that never should've been on a car going to the racetrack ended up on the No. 14 car at Charlotte." 
Looking at all this, the 23Xl Racing co-owner, Hamlin gave the community a worrying perspective of the scenario as he cited some vexatious points on his podcast "Actions Detrimental".
Even as he acknowledged the lack of details saying, "Counterfeit could mean multiple things, though, right?" The 42-year-old also mentioned the alarming situation when he shared the possibilities, whether it was manipulated or put on the car by mistake.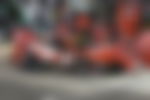 He said, "We need to see it because… did they attempt to put serial numbers on it? Official stickers? If they did, then, Yikes."
Further, the #11 driver also shared his speculations, "That's, that's intent. If it's a 3D-printed part that they didn't attempt to make it look real, then maybe that's a quality control issue."
The 3x Daytona 500 winner added, "So I think you don't know until you see the part. You got to see that they intend to deceive your eyes when you looked at it or was it just flat out someone picked up the wrong piece and put it on the car? It's hard. Again, that's really hard to do especially for a company like Stewart-Haas but you just never know, it's hard to speculate."
In the latest episode of his podcast, Hamlin also detailed the advantages of manufacturing such parts in-house after a curious Jared Allen popped the question.
Hamlin Sheds Light on Tony-Stewart's Team's Exceptional Capabilities
Well, the penalty came like a bomb for Briscoe and his team. In fact, if the team actually had the intention to cheat their way to a victory, it certainly had zero effect. Despite his struggle to hold the position, Briscoe finished the race 20th. In fact, NASCAR's stiff jab now shoves his chances into the Playoffs further down the drain.
The decision to not take up the appeal also has the #14 driver in deep waters. While this is the case in the SHR camp, the JGR driver talked about the team's exceptional set of CNC machinery that could easily solve the problem when his curious co-host jumped the gun to ask, "Is there anything to gain from like printing a fake part?"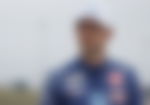 The 23Xl Racing co-owner explained to Allen, "Sure, for a company like Stewart-Haas that has a ton of CNC machines and what not you could use it for various things pit cars, they just posted pictures of their 2 pit cars, you don't want to spend, go out and spend a bunch of money off the shelf because if you want to build a legit Next-Gen car.
Providing feedback will help us make your experience better.
Enjoyed Your Read? Let us know how likely you are to recommend EssentiallySports to your friends!
ADVERTISEMENT
Article continues below this ad
He added, "It's going to cost you about $300,000 all in where they can go manufacture all those parts for much cheaper, within their own building but it has to be used for off-track things, show cars, could be a lot of things."
ADVERTISEMENT
Article continues below this ad
With NASCAR vigilant and always on the prowl, teams have to be careful and the recent crackdown is just a fine example. Will Chase Briscoe be able to rise up from the abyss? Or will he slump even down?
WATCH THIS STORY: Denny Hamlin defends himself with a controversial Dale Earnhardt Sr clip regarding his involvement in Chase Elliott's suspension
Edited By: Ranvijay Singh