Hamlin's Crew Chief Throws Light on the Ongoing 'Epic Rivalry' Between Denny Hamlin and Kevin Harvick
Published 08/19/2020, 10:17 AM EDT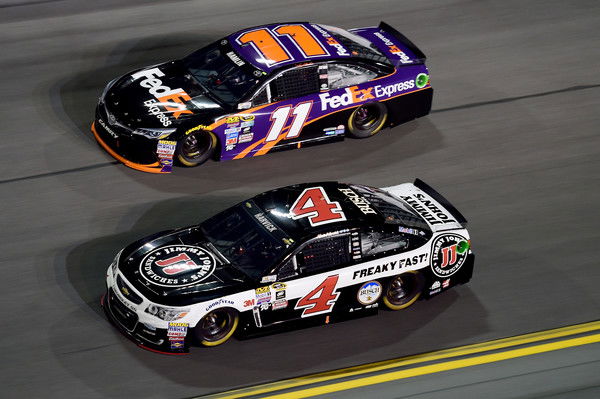 ---
---
NASCAR Cup Series will have its final doubleheader weekend at the Dover International Speedway this weekend. If the last two Cup Series doubleheader weekends are anything to go, we are in for another epic battle between Kevin Harvick and Denny Hamlin. Harvick and Hamlin shared the top two in three of the four races in the other two doubleheaders. The first one was held at Pocono Raceway. The second was at Michigan International Speedway.
ADVERTISEMENT
Article continues below this ad
Denny Hamlin beat Kevin Harvick in the first race at Pocono. Harvick turned things around in the next race. Earlier this month at Michigan, Harvick did the double. But the second race saw one of the closest finishes ever. Harvick beat Hamlin by just .093 seconds.
Gabehart on the Denny Hamlin and Kevin Harvick rivalry
ADVERTISEMENT
Article continues below this ad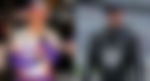 Hamlin's current Crew Chief at Joe Gibbs Racing, Chris Gabehart threw light on the rivalry and said that he feels fortunate to be part of it. "I think that's the neat part about what we're fortunate enough to do at two great organizations like Joe Gibbs Racing and Stewart-Haas (Racing)," Gabehart said in a recent interview.
"We're able to compete at sport's very top level with the best resources and people are the biggest resource. So the best people at the very pinnacle of stock car racing. So when you're fortunate enough to make it to that level as crew chiefs, engineers, drivers, you're very thankful for that, I know I am," he added.
All about respect
Gabehart went on to say that the two teams certainly compete fiercely on the race track. After the race, it is all about respect, says Gabehart.
"I know that's how (Harvick crew chief) Rodney (Childers) and I look at it. To say that we don't compete fiercely is certainly not true in terms of the level of competition. I mean, we're fierce competitors," he said. "But you know, when we shake each other's hands afterwards, it just comes from a real understanding just how fortunately lucky we are to be doing what we're doing at this level," Gabehart added.
Building the team together
ADVERTISEMENT
Article continues below this ad
Gabehart has been instrumental in turning around Hamlin's fortunes. Hamlin was winless in 2018 before Gabehart came in. Since then, the two have won 11 races together, more than any other driver-crew chief pair. Gabehart credited the driver for allowing him to run things the way he wanted to and not force things on him as a veteran driver.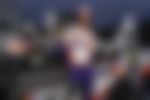 "I am proud and thankful of Hamlin's willingness to let a rookie crew chief come in and make this race team the way I saw fit without second-guessing me or questioning me, or putting the type of scrutiny on me that he could have as a veteran, as a successful veteran in this sport," Gabehart expressed. "He did nothing of the sort and it was that level of trust that really allowed the foundation to be built and is the reason we're where we're at today," he added.
ADVERTISEMENT
Article continues below this ad
Gabehart and Denny Hamlin will look to turn things around from Michigan during the Dover doubleheader this weekend.