"Cup Wins Are in the Same Pair of Underwear": Jimmie Johnson Becomes Witness to Hendrick Motorsports Star's Bizarre Confession
Published 12/29/2022, 8:00 AM EST

Follow Us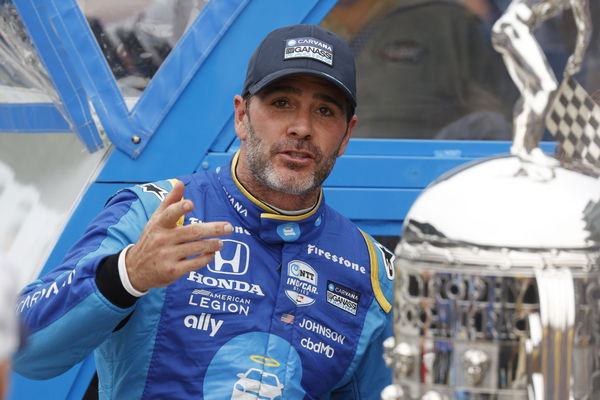 Every NASCAR fan has wanted to know more about their favorite driver's personal life. And it seems like Hendrick Motorsports listened to the community. Because Alex Bowman answered some questions which Jimmie Johnson asked that the fans need to hear.
America's Favorite Video Today
There is one interesting point about underwear that raised more questions than answers, though.
ADVERTISEMENT
Article continues below this ad
Jimmie Johnson and Alex Bowman were in an Ally truck heading to a racetrack when Johnson got the idea to ask some questions. And it was a pretty good idea because Johnson started with something pretty interesting.
He asked, "So what is something no one knows about you?"
To which Bowman had a very fascinating response. He replied, "Six of my seven cup wins are in the same pair of underwear. Sometimes you just got some lucky lucky drawings." Well, that creates more questions than answers. But hey, the Hendrick Motorsports driver has lucky underwear! 
The next one really concerned the app that takes a lot of his as Johnson asked, "What is your favorite app?"
And the driver of the #48 car replied, "Probably Instagram. It's a much, much more positive social media atmosphere than some of the others." To be fair, plenty of people are guilty of having a sort of addiction to Instagram. Scrolling through reels is pretty dangerous.
WATCH THIS STORY: Alex Bowman and Kurt Busch Have Made NASCAR Redesign the 2023 Car
Alex Bowman revealed his favorite track as he gave his teenage self some advice
The next segment of questions really concerned his favorite tracks. Especially Dover because that's one place Bowman is consistently good at. But turns out some credit even goes to the 7-time Cup Series Champion for his success.
The former HMS driver asked, "Did you always love Dover?"
To which Bowman the Showman replied, "[I] think 2019 you and I talked for a bit about kind of your approach from that point on. I haven't finished outside of the top five at Dover." Wow, he really got some solid advice! No one can deny that the #48 car is pretty fast on over. But who is Bowman's ally?
Even Johnson was curious as he asked, "So who's your greatest Ally?"
Turns out the question is pretty self-explanatory, "Ally is my greatest ally. Every ally needs an ally and I got allies for my allies out on it."
Of course, everyone has some advice they would give their young selves. But Jimmie wanted to know what Bowman would have told his young self. He asked, "Alright if you can go back and give your teenage self some advice, what would that be?"
Well, the #48 driver is pretty straightforward as he responded, "just tell myself to enjoy what you're doing more and not be so worried about the outcome. Just have more fun."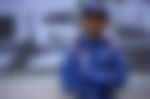 "Would Say He's Better Than Me" – Kyle Larson Once Described the "Best" Driver He Wants to Beat and It Wasn't Hendrick Motorsports Rival Chase Elliott
So what would be your advice to your young self? Let us know in the comments.
Bowman prefers coffee over food
Someone's desert island food is an oddly interesting topic. Because everyone has some fallback options they would pick if they had to eat only one thing for the rest of their life. Turns out Bowman doesn't want any food at all.
The retired racing legend asked, "Alright, so you're stranded on an Island, you have one choice of food."
Providing feedback will help us make your experience better.
Enjoyed Your Read? Let us know how likely you are to recommend EssentiallySports to your friends!
ADVERTISEMENT
Article continues below this ad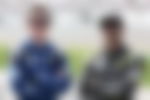 Bowman asked, "Can I just go with coffee?" And Johnson asked laughing, "You're gonna be hungry." But it's no issue to the driver because he was a good reason, "Yeah, I'm gonna be hungry. But I'm gonna be anxious and awake." Coffee sure is pretty addictive.
The next question was, "What's the best gift you've ever received?" To which the HMS driver replied, "That Ally Racer arcade game sitting in my shop." 
ADVERTISEMENT
Article continues below this ad
And the final question was from the former #48 driver, asking how it's been taking over a car that iconic. "How's it been taking over the 48?" Of course, it's a historic car and anyone driving it carries a legacy. Bowman feels it's an honor to be chosen for that car as he said, "That's been super enjoyable and an honor to get grabbed at the number 48 car." 
Well, that sure was a pretty fun question-and-answer session. Should there be more of these in the future? Let us know in the comments!
Edited By: Varunkumaar Chelladurai