Dale Earnhardt Jr Admits to Missing an 'Enjoyable Part of His Job' as the NASCAR Fans Protest to Bring the Old Feature Back
Published 03/09/2023, 11:14 AM EST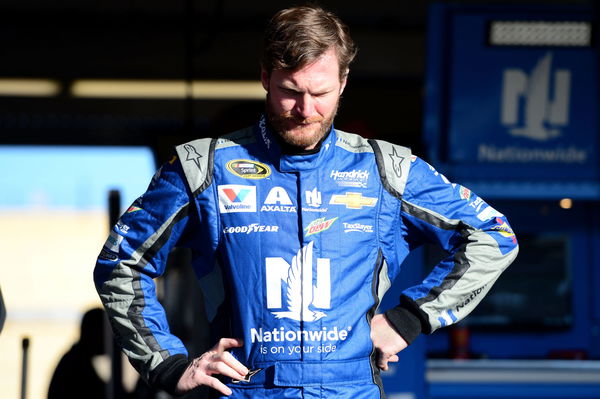 Every sport provides entertainment in its own way. Luckily for NASCAR, there are multiple avenues in this sector. What goes behind the scenes is probably the most engaging factor from a fan's perspective. Over the years, there have been quite a few changes in broadcasting. Post Covid-19, NASCAR has stopped using some features, one of which Dale Earnhardt Jr misses fondly.
The former Hendrick Motorsports driver enjoyed his time as a broadcaster for NASCAR on NBC. Given the profile, he certainly had an interesting time, discovering dynamics he would have not known that well as a driver. Recently, he couldn't help but feel nostalgic, missing one of the entertaining features available earlier. Surprisingly, many fans concurred with his feelings.
Fans back Dale Earnhardt Jr on bringing back old NASCAR feature
ADVERTISEMENT
Article continues below this ad
Dale Jr has always been good at what he does. As a broadcaster, the 48-year-old loved to interview and get all the information concerning the race, especially prior to it. Post the Covid-19 pandemic, NASCAR has stopped broadcasting on Fridays and Saturdays, depriving the fanbase of viewing the practice and qualifying sessions.
The broadcast earlier used to involve visiting different garages and interviewing drivers about their relevant issues. From an audience perspective, it was immensely enticing getting to know what happened behind the scenes. Recently, Dale Jr posted a message on social media expressing his disappointment in missing the opportunities nowadays to broadcast practices.
The post said, "I miss broadcasting practices and trying to learn who was quick and who was looking for speed. Those storylines developing throughout the Friday/Saturday activity were an enjoyable part of my job." What happened next was incredible. Several fans agreed with him, calling out NASCAR to bring this feature back.
However, this type of broadcasting brings a lot of a commercial burden on teams which makes it tricky to bring it back. Interestingly, this comes after Junior recently expressed an on-track feature that he misses.
What could Dale Jr miss after retiring from the Cup Series?
NASCAR has tried to keep the sport entertaining by time and again bringing in new innovations. While Dale Jr was still driving, they introduced the feature where drivers could communicate with each other on the radio while racing. The North Carolina-born racer recently explained how he misses it dearly.
ADVERTISEMENT
Article continues below this ad
I like that Dale Earnhardt Jr.'s immediate response to the broadcast booth coming over his car radio is "What are y'all doing?"

— Alanis King (@alanisnking) August 31, 2019
Speaking about the feature on his podcast The Dale Jr Download, he said, "I definitely did not get everything out of that. Like, I probably would have abused it. Keyed up the mic and been like, 'Hey! what are you doing, what are you thinking about? What's going on? What are you doing after the race? That was a dumb move, hey man!'."
ADVERTISEMENT
Article continues below this ad
WATCH THIS STORY | "Didn't Have the B*lls to Do It" – Dale Earnhardt Jr Once Turned Down an Offer to Follow in Jeff Gordon's Footsteps
Well, it definitely would have been fun watching Dale do that but the feature is gone as is the two-time Daytona 500 winner from the NASCAR Cup Series. It's amazing how he manages to take us back to some of the interesting features the sport once had.
Edited By: Ranvijay Singh