Dale Earnhardt Jr Flat-Out Refused Controversial Hendrick Motorsports Tactic Until Teammate Jimmie Johnson Offered Him a Case of Beer
Published 10/01/2022, 12:15 PM EDT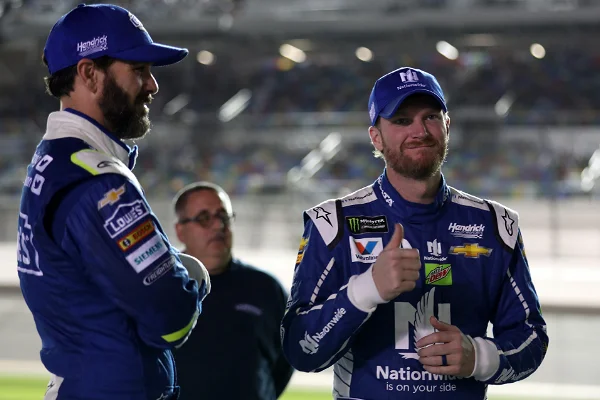 Throwbacks are always amazing! And it gets all the better when you have other people to reminisce about those days with. NASCAR drivers Clint Bowyer, Jeff Burton, and Dale Earnhardt Jr recently indulged in a throwback session on Twitter. And with NASCAR's Talladega Super Speedway race just round the corner, their stories got all the more interesting.
ADVERTISEMENT
Article continues below this ad
Jeff Burton recently shared a clip of himself talking about the 2011 Sprint Cup Series race at Talladega. The video was captioned 'The one that got away!" And it explained the incident where Clint Bowyer edged off Jeff Burton for a win. In the video, Burton shared what exactly happened during the last laps where he and Bowyer were locked in a Tandem draft.
ADVERTISEMENT
Article continues below this ad
And soon Bowyer acknowledged Burton's explanation and reposted his clip on his account. But with a shoutout to Dale Earnhardt Jr.
And the thread following the tweet was hilarious. Dale Earnhardt Jr soon posted a picture from the race and Jeff Burton chimed into the conversation.
I refused to do it. Then @JimmieJohnson offered me a case of beer from the Joseph Schlitz Brewing Company. We kicked everyone's ass that day and got drunk.

— Dale Earnhardt Jr. (@DaleJr) October 1, 2022
In the video, Burton explained how he and Bowyer mastered Tandem drafting. He said; "My teammate Clint Bowyer and I, we had figured the Tandem drafting thing out. We were really good at that. He was the guy that would push, I would kind of lead the pack and we used one spotter for both cars. That's how committed we were. I hung on left, he hung on left. Wherever I went, he went."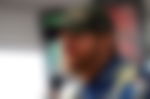 However, as good as the two of them were together, Bowyer still became 'the one that got away.'
What exactly happened with Clint Bowyer and Jeff Burton at Talladega?
ADVERTISEMENT
Article continues below this ad
Jeff Burton explained how he and Bowyer lead during the final laps of the race. Further, he shared how Bowyer edged him off towards the end. He said; "Got a late-race restart, he (Bowyer) pushed the hell out of me, we got a massive lead – like a ridiculous lead. And it's just me and him."
Further, he said that people usually don't believe him when he tells them that they had a brief conversation at that time. He said; "When we come off turn 2, on the white flag coming to get checkered, and I pushed my radio button and I said 'I bet you wanting to, how're you gonna try to pass me?' And he pushed his button and started laughing. So here we are, competing for the win and talking to each other, laughing."
Furthermore, he revealed that when they came off on turn 4, he wanted to pull Bowyer beside him. He thought that if he was beside him, he could side draft him and beat him to the finish line. However, his plan didn't go the way he wanted it to. He said;
ADVERTISEMENT
Article continues below this ad
WATCH THIS STORY: Dale Earnhardt Jr Leads the Motion by NASCAR Fans to Take All-Star Race Back to Charlotte Motor Speedway
"But when he got under me I gave him too much room. And then I tried to correct it and I actually hit him. (laughs) For a moment I thought of wrecking and I didn't wreck and he beat me to the line. I had a good plan, I just didn't execute it. But it was just good teamwork. We had a plan, we stuck to it and now he took advantage of it and didn't do exactly what I needed to do in the end."