Dale Earnhardt Jr Leads $1 Million Worth #FreeTheSkirt Movement With Brad Keselowski
Published 01/25/2023, 5:30 AM EST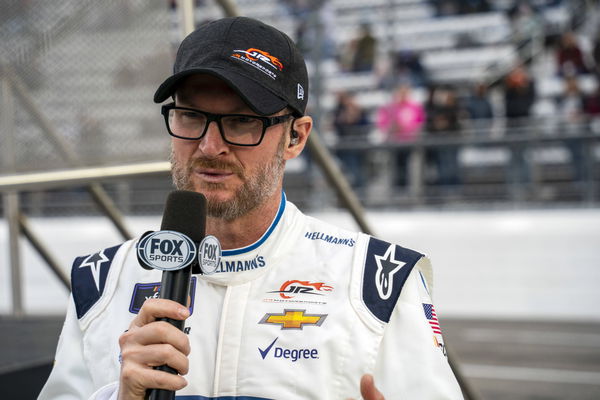 Dale Earnhardt Jr. is arguably the best spokesperson and activist in NASCAR when it comes to raising relevant issues and shedding light on institutionalized problems. Over the course of his racing career and even now after his retirement, Junior has advocated for several subjects for the betterment of the sport. However, there's one thing he simply hasn't been able to achieve yet.
Now, that isn't something that could technically be considered an essential aspect of the sport itself, but it's something that many prominent names have wanted for a long time. And now, Junior is raising his voice yet again on that subject—this time in collaboration with Roush Fenway Keselowski Racing's driver-owner, Brad Keselowski.
Their common goal? Wrap the side skirts.
ADVERTISEMENT
Article continues below this ad
Keselowski's #6 Ford Mustang recently had its side skirts wrapped in the paint scheme, which immediately caught the attention of an enthusiastic NASCAR fan, to which the driver-owner replied and tagged Dale Jr with, "Yes sir. We'd do it every week if the rules changed allowed it." 
This led Earnhardt Jr to reply back with a simple response, "#FreeTheSkirt." 
WATCH THIS STORY: Ryan Blaney & Bubba Wallace Deemed Favorites by NASCAR Fans to Repeat Jeff Gordon's Impressive Feat
Dale Earnhardt Jr once showed an incredible gesture with insane demand
During the 2008 recession, when all of the world's industries and businesses were suffering heavy losses, including NASCAR, Dale Earnhardt Jr. showed everyone just how big a heart he has.
Back then, he was driving for Hendrick Motorsports and he offered his boss Rick Hendrick that he'd take a million-dollar pay cut for the betterment of the organization.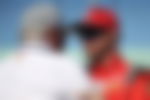 HOMESTEAD, FL – NOVEMBER 19: Dale Earnhardt Jr., driver of the #88 AXALTA Chevrolet, hugs Rick Hendrick during pre-race ceremonies for the Monster Energy NASCAR Cup Series Championship Ford EcoBoost 400 at Homestead-Miami Speedway on November 19, 2017 in Homestead, Florida. (Photo by Chris Graythen/Getty Images)Obviously, this left Mr. H pretty shocked and in awe of Junior. "I was shocked," Hendrick said as per FOX Sports. "That just shows you the character that he has and his relationship with people."
ADVERTISEMENT
Article continues below this ad
But in exchange for this, Junior made a pretty eccentric demand. If he were to take a million-dollar pay cut, he'd want HMS to allow him to have wrapped side skirts.
"I drive the car, I want the dang thing to look good. I never understood drivers that don't care about what their car looks like," he had said about this demand. Of course, Junior's ask was fulfilled by his former boss. He was even allowed to design his entire paint scheme.
ADVERTISEMENT
Article continues below this ad
Now, it'd be interesting to see if NASCAR does in fact listen to Earnhardt Jr and Keselowski on this subject. Could this hashtag gain some momentum and force NASCAR to change the rules? Only time will tell.
Edited By: Nischal Kandpal