Dale Earnhardt Jr Reveals If He Harbours Any Intentions of Emulating Hendrick Motorsports Ace Kyle Larson By Running Dirt Races in Future
Published 08/20/2022, 4:05 PM EDT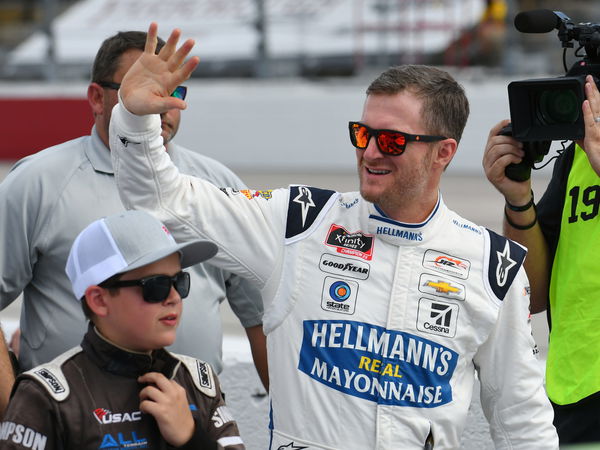 Dirt Racing is one hell of a challenge. Tackling other cars and maintaining pace in little to no grip situations requires a lot of practice. However, no one can deny that Dirt Racing can be extremely fun.
But would Dale Earnhardt Jr. want to join the likes of Kyle Larson, and take on that challenge? Well, in a recent episode of the Dale Jr. Download, he talks about his plans for dirt racing at North Wilkesboro Speedway.
ADVERTISEMENT
Article continues below this ad
Junior's co-host gave him the question that came from a fan which said, "Have you ever thought about running a dirt race? But more specifically – the ones coming up at North Wilkesboro?"
To which Dale Jr. declared that he has no plans for it. He said, "I don't think I want to run any dirt racing"
"I tried to race dirt cars or not dirt cars, I tried to race dirt in a legends car when I was 15,"
He added, "I know that's probably not a great combination as far as legends cars to be able to really get an idea of what it might be like. But I think that if you're 47 years old and you've never raced dirt that you're not going to be very good at it for a while."
Junior also points out the challenge, and the skill required for it, calling it "a hell of a discipline,"
Although it is a hell of a discipline, the 2021 Cup Series Champion Kyle Larson frequently takes part in the dirt racing series. And he is quite successful, too!
Can Dale Earnhardt Jr. Emulate Kyle Larson's Success In Dirt Racing?
Hendrick Motorsports star driver, Kyle Larson, is a perfect example of a NASCAR driver that displays incredible dirt racing prowess, irrespective of the series.
ADVERTISEMENT
Article continues below this ad
Although Larson finished fourth in the late model race, he didn't fall without a serious challenge. And he put pressure on the drivers ahead of him. However, we see Kyle's incredible dirt abilities in sprint cars as he started 9th and sprinted his way to the top in less than four minutes!
Not only that, Larson has displayed great racing in NASCAR Cup Series dirt tracks too.
ADVERTISEMENT
Article continues below this ad
WATCH THIS STORY: Dale Earnhardt Jr Mocks Legendary Hendrick Motorsports Crew Chief Steve Letarte
It is well understood that Larson knows his way around dirt tracks. Of course, it came with a lot of experience. But, can Dale Earnhardt Jr. emulate Kyle Larson's success at dirt tracks if he took the challenge? Let us know in the comments.
Edited By: Ranvijay Singh