Daytona Throwback: When Austin Dillon Went Flying in One of the Most Horrific Crashes in NASCAR
Published 08/28/2020, 9:08 AM EDT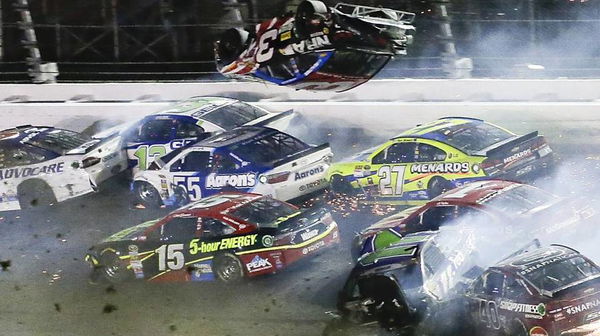 ---
---
NASCAR races at the Daytona International Speedway are never short on drama and action-packed incidents. As NASCAR prepares for yet another race weekend at Daytona, we look back at one such incident which went down in history as one of the most horrific crashes ever. Austin Dillon survived what was a multi-car crash in the final lap of the 2015 Daytona Cup Series race.
ADVERTISEMENT
Article continues below this ad
Austin Dillon was at the heart of a multi-car wreck that sent him with full impact into the catchfence. His car was absolutely wrecked. The incident occurred just behind the finish line and left the crowd in silence the second Dillon's car went flying. His No. 3 Chevrolet was upside down and Dillon was still inside, much to everyone's horror.
When numerous hearts skipped a beat at Daytona
ADVERTISEMENT
Article continues below this ad
Crew members from all teams rushed to the cars involved. Soon after checking up on Austin Dillon, the crew staff gave a thumbs up to the crowd, leading to a huge cheer. After a few moments, Dillon himself walked away and waved to the crowd, much to everyone's relief. He was rushed to the care center and managed to escape with a bruised tailbone and forearm.
The incident showed that a chaotic crash sent Dillon's car flying over two rows of traffic and into the catchfence. After he fell upside down, another car smashed into the side of Dillon's car. A few fans were also injured near the catchfence in question.
How Austin Dillon remembers the incident
"As soon as I looked up and I don't know if it was Casey Mears' pit crew member or Casey right at the door, but that made me feel really good and comfortable," Dillon said after the race.
ADVERTISEMENT
Article continues below this ad
"The only thing I was worried about was that there was oil everywhere and I wanted to get away from the car and that was why I was scrambling to get out from under it. And then just wanted to wave to the fans and let them know I was all good," he added.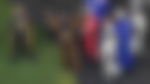 Dale Earnhardt Jr. won the race under the lights at Daytona.
ADVERTISEMENT
Article continues below this ad
As the teams and drivers head to Daytona for another racing weekend, we hope that we never see a repeat of what happened on that day in 2015.
Trending Stories