Denny Hamlin Teases Ross Chastain Explanation After Fans Blasted Him for Escalating Their Feud in Phoenix
Published 03/13/2023, 6:30 AM EDT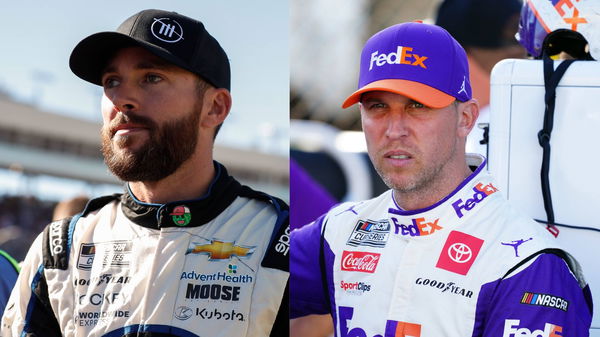 The more the things change, the more they stay the same. Yes, the 2022 season ended a long time ago now, but did it, really? Or a better question would be, have things from the 2022 season ended? Because when it comes to Denny Hamlin and Ross Chastain, the most unexpected rivals from the last season who were inseparable, the answer is no.
Phoenix saw yet another chapter in the rivalry between Hamlin and Chastain.
ADVERTISEMENT
Article continues below this ad
Towards the closing moments of the race, the veteran lost control of his car, and slid up the track and into Chastain, taking both their cars into the wall and out of a Top 10 finish.
After the race, Hamlin was seen having a chat with Chastain as he also teased some revelations from his end on his social media. Hamlin wrote in an Instagram story, "P23 AT PHOENIX. WILL TALK ABOUT IT IN THE MORNING," over a clip of the incident alongside a countdown to his podcast episode.
NASCAR fans hold Denny Hamlin culprit in the Phoenix incident with Chastain
Regardless of who was at fault in the most recent coming together of Hamlin–Chastain, a portion of NASCAR fans were holding the veteran the culprit in the incident. This is interesting because last season it was Chastain who found himself on the wrong side of not only the fans, but also insiders who were critical of his racing on the track, and in particular, the way he raced Hamlin.
This time around, the narrative was different.
Ross got Hamlined at the end

— btmartin236 (@btmartin236) March 13, 2023
Ross used him up a couple times last year. I get it, but Denny is ALWAYS mad at someone or something.

— Chuck Nantz (@CDN_17_14_6) March 13, 2023
Denny becomes more and more unlikeable every season.

— Ethan Dexter (@BoneThug33) March 13, 2023
Hamlin needs his jaw jacked and that smirk knocked off his redneck face.

— Ken (@kendking22) March 13, 2023
@dennyhamlin is a trying hard to beat Kyle as the most hated driver and asshole in the sport.

— Curtis (@anteroblue) March 13, 2023
WATCH THIS STORY: Fear of "Horrible Takes From Kyle Petty" Takes Over With NASCAR Reportedly on the Verge of Committing "Big Mistake"
Ross Chastain finding it difficult to sustain competitiveness in 2023
Speaking in a recent interview with NASCAR, Chastain admitted his lack of confidence in himself, which stems mainly from the potential he and his team have, the weirdness of which wasn't lost on the driver either.
ADVERTISEMENT
Article continues below this ad
"Sustaining this level of competitiveness at this level of the sport is so challenging," he said. Chastain pointed out how racing in circles on weekends is a good metaphor for NASCAR as a whole, how a driver's stock "goes up and down," and so forth.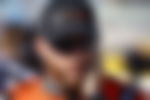 He emphasized how trying to keep themselves elevated to the level they not only showed they're capable of reaching, but one which they also reached, is "going to be tough." 
ADVERTISEMENT
Article continues below this ad
"I don't have great words for it, but simply put, I feel like that I have to work harder now than I ever have," Chastain added.
Edited By: Nischal Kandpal