Denny Hamlin Wants to Focus on Winning Races More Than Investing in Teams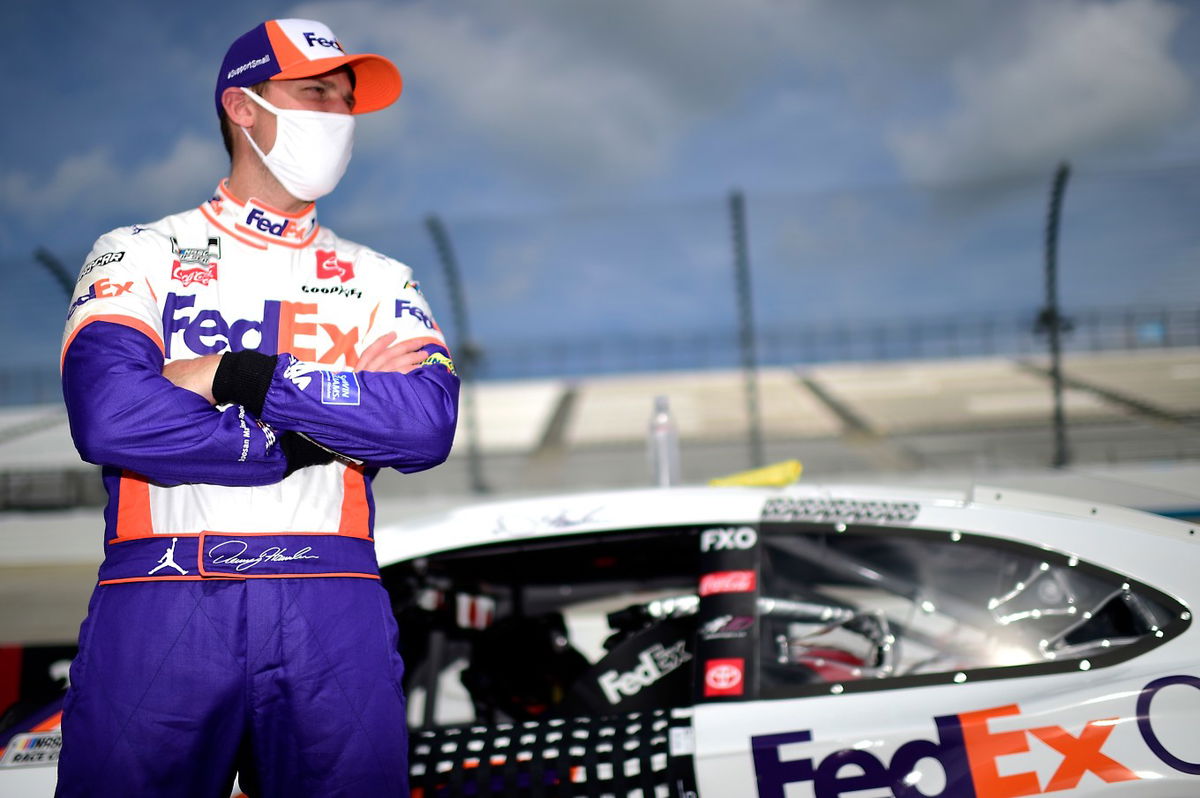 Denny Hamlin isn't giving any reports on the rumored investments in the Richard Petty Motorsports. The gossip has been around for a little while and states that Denny Hamlin is possibly purchasing a possession stake in Richard Petty Motorsports.
In an interview with Bob Pockrass, Denny says he is not announcing anything. "I don't have anything to announce or to speak about when it comes to it," Hamlin says.
However, 39-year-old Denny Hamlin conceded he is continually looking toward what to do once his racing vocation is over.
"I think I'm always looking towards what I'm going to do once my driving career is over.
Denny adds, "I have some great partners who support me and my decisions and what I will do for years to come. I don't know, I wish I had something to announce, but I really don't. There's a lot of things up in the air that are still getting worked on."
Amid rumors he is interested in investing or finding investors for Richard Petty Motorsports, Denny Hamlin says he is always looking at opportunities to remain involved in NASCAR after he is done racing but his time behind the wheel will be for Joe Gibbs Racing: pic.twitter.com/rR12NAdo3Q

— Bob Pockrass (@bobpockrass) August 28, 2020
Denny Hamlin wants to focus on winning the races rather than any investment plans right now. He says, "But I've got to win this weekend and next weekend, and that's where I've got to focus." 
"But certainly, I believe that no matter what, my career will be with Joe Gibbs Racing and FedEx as long as I want to drive."
Read More: Crew Chief and Jimmie Johnson Worried About the Unpredictable Outcome That Daytona Might Throw Their Way
Will Denny Hamlin-Bubba Wallace invests in the RPM group?
Bits of rumors have even included Michael Jordan conceivably getting tied up with the group too. Although, a representative for Michael Jordan has kept the gossip from getting Jordan's contribution.
Further, there are discussions that the team would change to Toyota, and conceivably extend to two vehicles with Darrell Wallace Jr. and, an extra driver.
Wallace is the potential free agent after this season. He has numerous proposals from teams, including from Petty.
Richard Petty Motorsports are attempting to hold Bubba Wallace for the 2021 season. While RPM has offered Wallace a considerable increase in salary for next season, they have likewise offered him an equity stake in the group.
Abhay Aggarwal
I am an avid follower of Formula One, Baseball, Cricket, and Lawn Tennis #MercedesAMG #Yankees