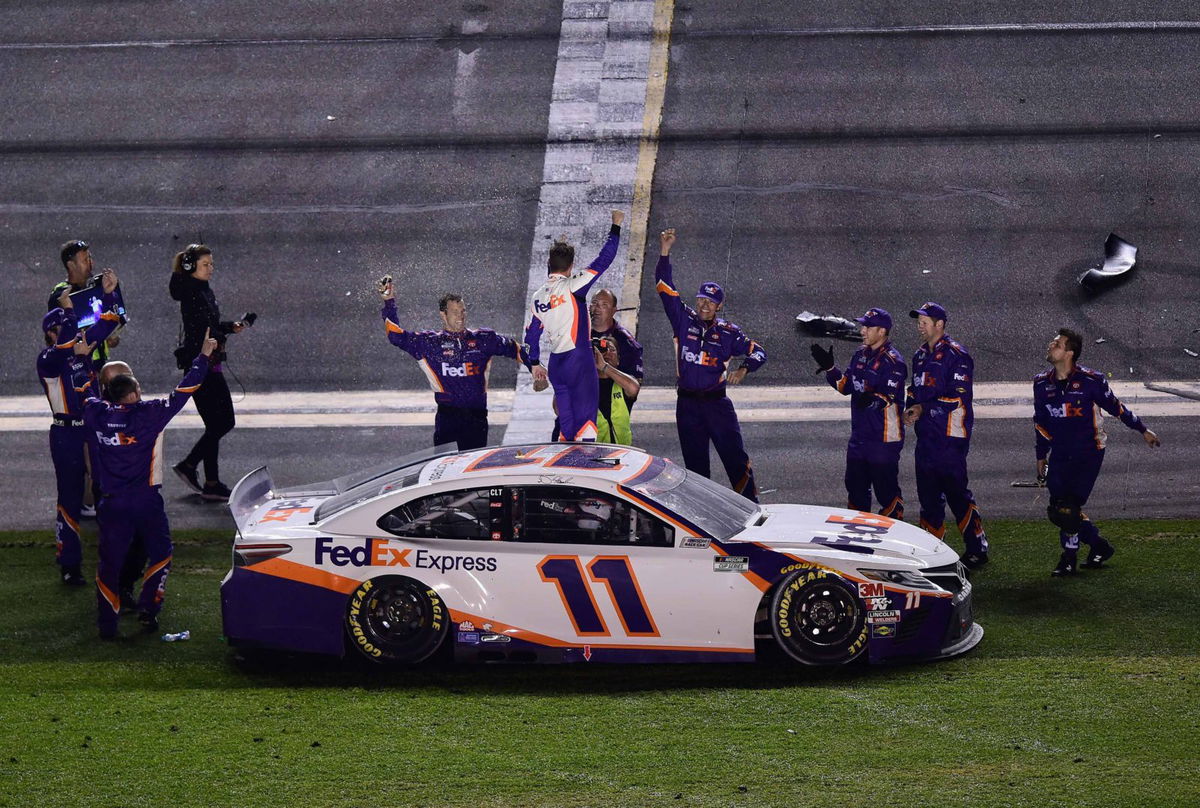 At the Pocono Raceway, Denny Hamlin overcame a massive rain delay to cruise to victory. He successfully kept last race's winner Kevin Harvick at bay and managed to flip the result on Sunday night.
Additionally, This goes to show that Hamlin and Harvick are one of the two biggest contenders this season's championship by a margin. The statistics back them up because Hamlin has accrued four wins, with Harvick on three.
With this win at Pocono, Denny Hamlin reached an incredible milestone. Hamlin has officially seized his sixth win at Pocono, tying with NASCAR legend, Jeff Gordon for the most Pocono wins.
In addition, this marks Hamlin's fourth victory in 2020 after a marathon day of racing at the circuit. What made the challenge even harder was the fact that the race ran close to nightfall and Pocono does not have any floodlights.
ALSO READ: Pocono's 'Tricky Triangle' Ready for The NASCAR Cup Series Doubleheader
Retweet to congratulate @dennyhamlin on his WIN! He ties @JeffGordonWeb as the all-time Pocono winner with six total.@CocaColaRacing | @JoeGibbsRacing pic.twitter.com/EhXiciO5mB

— FOX: NASCAR (@NASCARONFOX) June 29, 2020
Denny Hamlin did not have things easy for him
On Saturday, Hamlin's #11 Toyota developed a vibration, so catching Harvick was out of the question. Come Sunday, Hamlin vindicated himself and built an almost three-second long lead, with his rival getting caught in traffic.
Speaking after the race, Hamlin said, "I hate to feel disappointed in a second and a first, but man, I felt like I should have won both races."
He even spoke about the impending departure of Jimmie Johnson, who is a three-time Pocono winner at Pocono. The circuit chose to honor Johnson over the weekend and paid a beautiful tribute. Hamlin said, "Maybe one day I'll get one of those black rocks they've got here for all those good guys that have won it. I don't think this is the last one."
Meanwhile, Chase Briscoe won the NASCAR Xfinity series and Brandon Jones won the Truck Series race. Now, in two week's time, the paddock heads to the Kentucky Speedway.