Despite $50,000 Debacle, Denny Hamlin Plays the Good Samaritan as Xfinity Series Driver Steals the Show at Atlanta
Published 03/19/2023, 8:28 AM EDT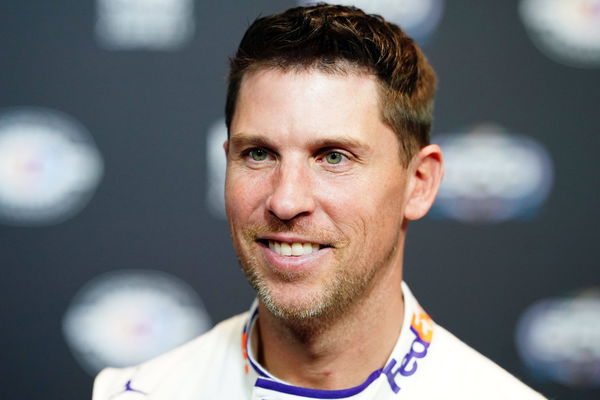 In the immediate aftermath of the Xfinity race in Atlanta, a lot of drama unfolded. It all began when Josh Williams was ordered to park his battered #32 car immediately. Now conventional wisdom and common sense say that the driver should enter the pit area and park. However, Williams chose to go down the "malicious-compliance" route and parked his car on the start-finish line. Naturally, this did not sit well with officials who hauled him up for investigation. Anticipating a penalty, Denny Hamlin, possibly frustrated with his own recent issues with NASCAR, went on to play the Good Samaritan.
ADVERTISEMENT
Article continues below this ad
The Joe Gibbs Racing driver anticipated that Williams could cop a fine and volunteered to pay for it. Williams confessed that he was initially frustrated and confused at the decision to park his car. As a result, he simply elected to park his car on the start-finish line. Later on, he was hauled up in front of the officials to explain his actions and possibly incur a penalty.
How did Josh Williams end up at the start-finish line
It all kicked off when the #32 driver got involved in a three-car accident on lap 28. Luckily, the damage was largely cosmetic and Williams was able to continue after some heavy tape work. However, he did shed a lot of debris which triggered a caution on lap 32. The officials took note of this and probably called him in because of that.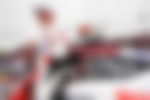 As per Section 8.8.9.I of the Xfinity Series Rule Book, "At the discretion of the Series Managing Director. If a damaged vehicle elects not to enter pit road on the first opportunity. Or if a damaged vehicle exits pit road before sufficient repairs had been made and thereafter causes or extends a caution (e.g. leaking fluid, debris, etc.). Then said vehicle may incur a lap(s) or time penalty or may not be permitted to return to the race."
ADVERTISEMENT
Article continues below this ad
Denny Hamlin had his own penalty to worry about
It was funny to see Hamlin jump in to lend a financial hand to Williams. This is because the #11 Joe Gibbs Racing driver has his own penalty to worry about. That particular penalty stemmed from an honest confession on his Actions Detrimental podcast. Over there, he admitted to deliberately wrecking his rival, Ross Chastain.
ADVERTISEMENT
Article continues below this ad
The NASCAR officials clearly took notice of the podcast, because they fined him $50,000. Initially, Hamlin was hesitant to appeal, as he likely felt that he had no leg to stand on. Later on, he caved in and lodged an appeal, so that he would not let it affect his Playoff hopes adversely.
WATCH THIS STORY: "I'm Not Ready for This" – Joe Gibbs Gave Denny Hamlin a 6-Point-Ultimatum That Eventually Led Him to "Seal the Deal" for the #11 Car
Edited By: Nischal Kandpal