"Don't Have the Actions Detrimental Budget"- NASCAR Insider Takes a Sly Dig at Denny Hamlin's Boss Dale Earnhardt Jr's Booming Empire
Published 09/18/2023, 5:31 PM EDT

Follow Us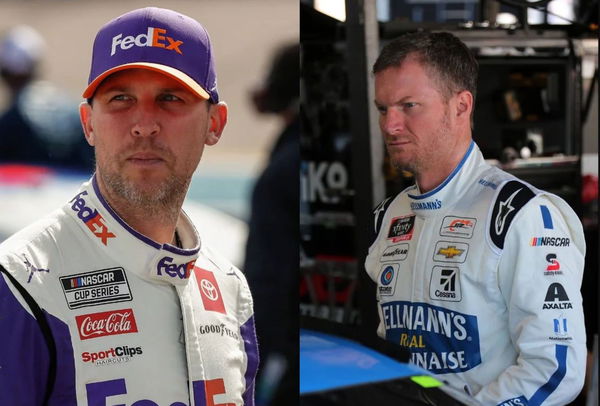 Last weekend's Bristol race showcased a Denny Hamlin master class as the Joe Gibbs driver smoothly cruised his way to Victory Lane, securing his 51st career victory amidst a chorus of boos, a not-unfamiliar soundtrack for Hamlin. Meanwhile, in the playoff opener, Darlington victor Kyle Larson was hot on his heels, finishing in P2. The Bristol spectacle also marked the end of championship dreams for four contenders, including defending champ Joey Logano and 2014 titleholder Kevin Harvick, who is in his farewell season with Stewart-Haas Racing.
America's Favorite Video Today
The Bristol track, known for its short track racing and intense banking, delivered drama in abundance, with the spotlight shining brightest on the race winner thanks to his fearless responses to the taunting jeers in Victory Lane. Post-race, NASCAR's seasoned paddock reporters, Jeff Gluck and Jordan Bianchi, featured a special guest in their usual race analysis video for Bristol—none other than race winner Denny Hamlin. Hamlin, himself an established podcast host, joined the duo, and they exchanged sly jabs directed at Dale Earnhardt Jr.'s expanding business empire.
Denny Hamlin used to boss Dale Jr.'s generous budget
ADVERTISEMENT
Article continues below this ad
During the recent podcast crossover, the conversation took a humorous turn as the journalists delivered some playful comments. The banter began with a tongue-in-cheek admission from Gluck: "We had requested the race winner from NASCAR, and, be honest, we were hoping for somebody a little more popular, but we settled for the race winner, Denny Hamlin. So, welcome to our podcast."
Hamlin, often known for his overconfident persona, displayed uncharacteristic humility, expressing, "I appreciate it. Avid listener here, a big fan. Thank you"
This friendly exchange served as the perfect precursor to the trio's remarks about Dale Jr.'s burgeoning media empire, 'Dirty Mo Media.' Dirty Mo Media is a content media house with an impressive roster of stock car racing experts and the management of eight distinct podcasts, including 'The Dale Jr. Download' hosted by Earnhardt himself and Hamlin's 'Actions Detrimental.'
Bianchi then injected some humor into the conversation by playfully highlighting the contrast in budgets between their podcast and the lavish "action-detrimental budget." Bianchi commented, "Clearly, clearly, the budget here is a little different, you know, we don't have the action-detrimental budget. Like, we don't have a studio, we have two microphones or two people. We had Kyle Larson. The only time we ever had a drive around here was when Kyle Larson won the championship, and we were sitting here, like, trying to juggle microphones between the three of us. It was a disaster."
Taking note of the cramped yet familiar setup Hamlin chimed in, "Do we need to be shoulder to shoulder so we can, you know, although this looks familiar? This is the equipment that Jeff let me and Jared use when we were on the road, did the Michigan emergency episode, yeah, to kind of give the, 'Here's what happened the first 60 laps.' "
Gluck continued by promising Hamlin an improved setup if he were to win the championship, with Hamlin agreeing to the proposal. This trio's camaraderie and good-natured teasing created an enjoyable atmosphere during their podcast crossover, leaving fans eagerly anticipating Hamlin's potential return as a champion in 2023.
Read more: "They're a Red Flag" – Another Joe Gibbs Racing Driver Gets Nod Over Denny Hamlin as Insider Dissects Their Season
As the trio hints at a potential comeback, the pressure is on Hamlin to clinch the 2023 title. While the verdict remains uncertain for a few months, Hamlin's name is currently linked to a record he desperately wishes to erase. It's an unenviable record, and if Hamlin fails to break his championship-less drought, it may cast a long shadow over his career for years to come.
ADVERTISEMENT
Article continues below this ad
Wins pile up, but the championship still remains elusive
Hamlin's 51st career victory in NASCAR was not just a milestone; it also catapulted him past Junior Johnson, who had held the record with 50 wins. However, this achievement came with an unusual consequence—Hamlin now holds the record for the all-time winningest Cup driver without a championship title, a distinction he might not be proud of.
What makes this record even more perplexing is the comparison with Junior. Despite fewer career seasons in NASCAR compared to Hamlin, Johnson never ran a full-time schedule. In stark contrast, Hamlin has been a consistent contender in the upper echelons of NASCAR for 18 years.
Providing feedback will help us make your experience better.
Enjoyed Your Read? Let us know how likely you are to recommend EssentiallySports to your friends!
ADVERTISEMENT
Article continues below this ad
WATCH THIS STORY: Bubba Wallace Exposes Boss Denny Hamlin's Black Lie In Pocono Feud
As Hamlin continues to strive for that elusive championship title, the record will loom large, a constant reminder of his remarkable consistency and success in the sport but also the one notable gap in his otherwise illustrious career. With the races to the Championship 4 numbered, the burning question remains: Can Hamlin finally erase his name from this record?
Edited By: Shivali Nathta