"Don't Have What the #5 Can Do, Need That" – Who Said What on the Radio in the NASCAR Cup Series 2021 Race at Kansas
Published 05/05/2021, 7:50 AM EDT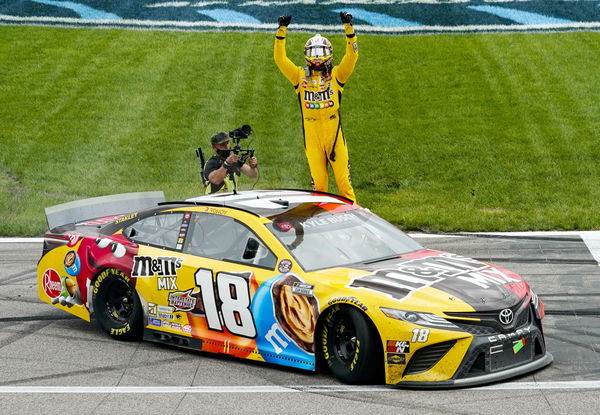 ---
---
Kyle Busch returned to Victory Lane in the NASCAR Cup Series on his birthday, winning the Buschy McBusch Race 400 at Kansas Speedway on Sunday. Along with the rest of the field, he had to navigate through a chaotic end to the race and emotions can run high in such situations.
ADVERTISEMENT
Article continues below this ad
Kyle Larson started the race in 32nd place but found his way into the top-10 in no time. Meanwhile, points leader Denny Hamlin was not happy with something in the first stage. "I am ****** all over the place," Hamlin said over the team radio.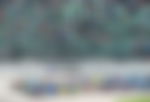 Very early in the race, NASCAR pulled out the black flag – something we don't see very often – for Ryan Newman's No. 6 car. After a pit-stop, the car apparently had the right rear side skirt pulled out too far, leading to a black flag.
ADVERTISEMENT
Article continues below this ad
Kyle Larson, Kyle Busch fight for the lead at Kansas
Larson, who has been the best on 1.5-mile tracks all season, was soon fighting for the lead. An interesting battle between Larson and Busch led to the Stage 1 finish, in which birthday boy Busch won to earn his first playoff points of the season.
Meanwhile, Larson's crew chief Cliff Daniels was very happy with his driver's work. "From the back to the front, you've done a nice job," Daniels said to Larson.
Larson soon went into domination mode and looked like a class apart from the rest. Busch was close, but he knew Larson was better at that stage of the race. "I don't have what the #5 can do. I need that," Busch told his team over the radio. Larson soon extended his lead and won the second stage.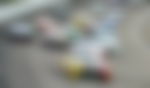 The battle for the lead between Busch and Larson continued to gather pace, and Busch could not afford any mechanical issues this time. "Our front-end settings are not proper. Three years now. Thank you," the Joe Gibbs Racing driver quipped.
Bubba Wallace had another rough day at the office and slammed into the wall during the final stage. While he did not suffer major damage, his handling was set to be affected. "Just stay in it, stay in it. Only one (lap) down. Still got something to fight for," his crew chief Mike Wheeler reminded him.
Larson's skills impress Busch in NASCAR Cup Series race at Kansas
Then, during the pit stops, an uncontrolled tire went on the race track and into the infield grass. However, NASCAR officials waited for almost 15 laps to bring out the caution, which became a big topic of debate later.
Hamlin then joined the battle for the lead as Kyle Larson continued to show his talents with some great control on the race track. "That's f***ing insane," said Busch on the same. His spotter though urged Busch to stick to his game and catch up to Larson.
"Agreed. He won't be able to do that very long though so. So just keep plugging," spotter Tony Hirschman told Busch.
Rowdy earns "A Kyle Busch win" in the Buschy McBusch Race 400
The real drama then began with multiple wrecks and multiple cautions. Ryan Blaney and Busch caught up with Larson as the restarts hurt his momentum. Then, on the final restart with two laps to go, Larson tried to catch Blaney and the leader Busch but ended up turning Blaney and himself.
ADVERTISEMENT
Article continues below this ad
That made it easier for Busch on the final lap and be bagged the chequered flag for his first Cup win in 2021. "That's a Kyle Busch win right there! Awesome Job! Whoo!" a thrilled crew chief, Ben Beshore, said.
ADVERTISEMENT
Article continues below this ad
Busch's win made it 17 consecutive Cup seasons with at least one win for the 36-year-old, as he chases Richard Petty's all-time record of 18.