Tony Stewart-Backed Jenson Button Explains His Preparation for NASCAR Debut
Published 03/16/2023, 3:28 PM EDT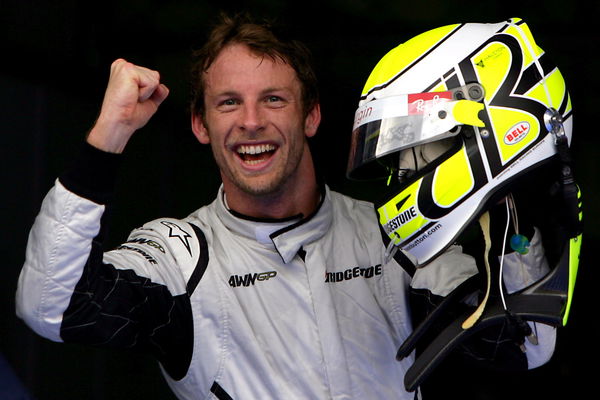 Formula 1 and NASCAR have their own sets of the fanbase. The sound of the engines, the teamwork, the gameplay; there's something visceral about these sports that makes people love them. Who would've thought that there would be a mingling between the two? The former F1 driver, Jenson Button, while chasing his thirst for challenges, has shown keen interest in NASCAR.
Following his participation in NASCAR, Tony Stewart-backed Jenson Button explained his preparation for his NASCAR debut. It might seem odd to many that a former F1 world champion needs to prepare for a Cup Series race.
Speaking along those lines, Button revealed some things that shattered his expectations and made him prepare for NASCAR just like every other driver.
ADVERTISEMENT
Article continues below this ad
Why did Jenson Button feel the need to prepare?
It seems strange coming from a former F1 world champion that there is a need to prepare for the race. In a recent interview with NASCAR Race Hub, Button deciphered his preparations for his NASCAR debut. On being asked about his methodology, he answered, "watch a lot of races."
He believes that to understand race craft, one needs to watch as many races as possible.
Being a former F1 driver, Jenson thought it would be a piece of cake for him to drive in NASCAR. But that piece of cake wasn't that easy to grab. He quickly realized that there are several unique aspects involved in a Cup Series race. He said, "I thought I was gonna just walk up and drive the car," but soon realized, "there's a lot of stuff to do." 
For the 43-year-old, driving was not the real challenge. The real challenge was to understand the game craft and the driving style of other racers, and to spend time with the team.
He laid emphasis on watching races again and again to understand each and every driver. He said, "watching races over and over again and understanding each individual driver as well, what they do and how they drive the car because they're all little bit different."
While the former champ seems pretty confident about his preparations, his team, Rick Ware Racing, is the one playing a huge bet on him.
Is Rick Ware Racing playing a huge bet?
ADVERTISEMENT
Article continues below this ad
The former F1 world champion has already got his hands on the modified Next-Gen-Spec stock car. He said, comparing it to F1, "it looks the same, but it's very different." He said his experience with Hendrick Motorsports's Garage56 program car was good and is pretty confident about his debut race.
Although his confidence level is high, it's the team that has taken such a big decision. Let's hope that the fruit of the bet played by Rick Ware Racing turns out sweet.
ADVERTISEMENT
Article continues below this ad
Watch This Story: Jimmie Johnson headlines NASCAR's first entry in the 24 hours of Le Mans
Edited By: Nischal Kandpal