"Finally They Put Their Foot Down": Denny Hamlin Backs the 'Yellow Line' Rule in NASCAR
Published 10/05/2020, 12:02 PM EDT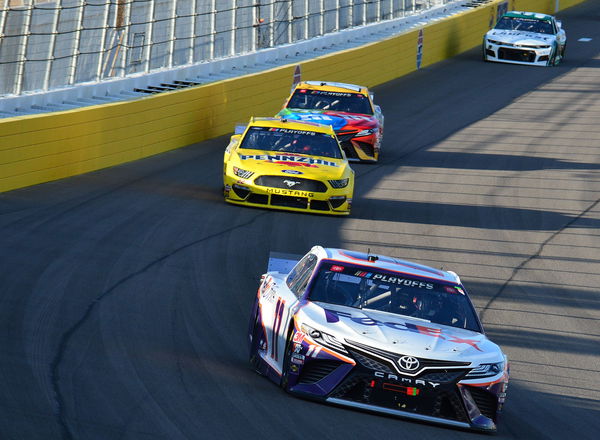 ---
---
The 'yellow line' rule created a major stir during the NASCAR Cup Series playoff race at Talladega Superspeedway on Sunday. The final lap of the race, which was in triple overtime, saw the likes of Matt DiBenedetto, Chase Elliott, Denny Hamlin, and others involved in the controversy.
ADVERTISEMENT
Article continues below this ad
DiBenedetto, who finished second, was eventually penalized for forcing William Byron below the yellow line. He eventually finished in 21st place. On the other hand, NASCAR considered Hamlin to be below the line in order to avoid a wreck.
The controversy around having the yellow line rule came up in the aftermath of the race. However, Hamlin was clear as daylight on his thoughts about the rule.
ADVERTISEMENT
Article continues below this ad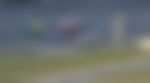 Denny Hamlin gives his thoughts on the 'yellow line' rule
"Called it all day. It's a non‑story. They're supposed to, right? Call it the same on lap one as the last lap," Hamlin said during a media interaction post his win. Many immediately called for the rule to be canceled, including Dale Earnhardt Jr.
Hamlin then said he gets forced below the yellow line all the time. "I've been a victim of getting forced down there all the time. Finally they put their foot down and said, This is the rule, we're going to enforce it," he added.
The #11 driver feels that a driver must follow the yellow line rule, regardless of whether he is leading or not. "You can't as a leader, wherever you are, use the yellow line as a defense.
"You have to play within the boundaries that they set. In NFL they had force‑out rules, things like that. They got rid of it. It's the same kind of thing," Hamlin added.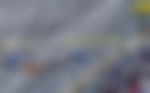 No need to block to win: Hamlin
ADVERTISEMENT
Article continues below this ad
While DiBenedetto said that he used the blocking strategy as he just wanted to win, Hamlin believes blocking others is not the only way to win.
"They set the precedence early so you know you weren't going to get away with it. It's part of it. I wouldn't say I would have done anything different if I was Matt," Hamlin said further. "I don't know. I'm not a huge blocking guy. I don't know. I don't always think you have to block to win," he continued.
ADVERTISEMENT
Article continues below this ad
The rule went under the scanner even further after Chase Elliott's penalty for forcing another driver below the line was rescinded.